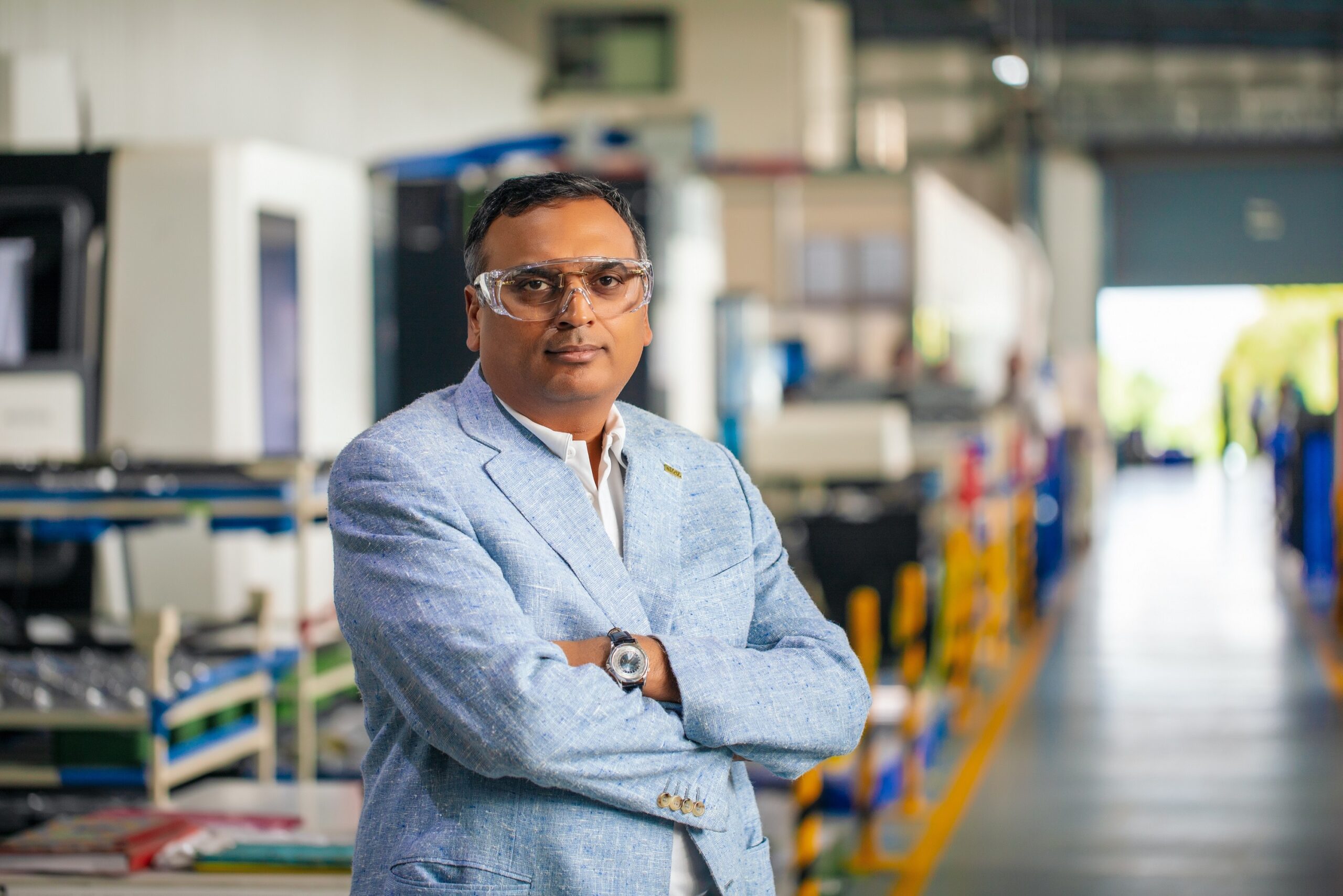 "It is ridiculous to have China-made Dosa Tawa sold in Mysore." Mr. Aravind Melligeri, the founder, Chairman & CEO of Aequs, shared many more such exciting and informative insights in an engaging talk with DMI's editor, Aanand Pandey. Excerpts have been edited for brevity and flow.
[Text] Aequs is a fast-growing diversified contract manufacturing company providing vertically integrated product solutions across its global customer base in the Aerospace, Toys, and Consumer Goods industries. 
In a conversation with us, Mr. Aravind Melligeri, the founder, Chairman & CEO of Aequs, illustrated in depth his company's distinct approach to manufacturing that could be a game-changer when global supply chains are in flux. And the world is seeking viable ideas for manufacturing and supply chains that can provide certainty, efficiency, and sustainability.
Q. Please share your company's position and vision of creating a manufacturing ecosystem with our readers, which you have created for the aerospace, toys, and consumer durables sectors. 
A: When one looks at manufacturing as an ecosystem, it is viewed as a streamlined, optimized, competitive, and efficient production method. Globally, manufacturing is primarily driven by quality, delivery schedules, and costs. Ultimately, manufacturing moves to the most efficient locations. Of course, economic and geopolitical conditions play important roles, but manufacturers, especially those engaged in contract manufacturing, tend to choose sites that offer the highest efficiency for production.
Therefore, establishing ecosystems becomes crucial, particularly when the entire supply chain is vertically integrated within a single location. Over several decades, this approach has been successfully adopted in the aerospace industry and other sectors. Examples such as Wichita, Kansas, and Toulouse, France, showcase organically developed ecosystems capable of manufacturing an entire aircraft.
In India, the commercial aerospace industry initially faced challenges.  To foster rapid growth, the industry required an ecosystem. Recognizing this gap, we at Aequs established a special economic zone in Belagavi, Karnataka, to develop such an ecosystem.
Initially, the in-country value addition for machined products stood at only 20 percent. However, over a decade and a half, we have expanded the range of products that deliver much higher in-country value-add. This increased in-country value-add enhanced value proposition and cost efficiencies, ensuring long-term customer retention. This approach has been our driving force. By implementing it in the aerospace sector, we gained insights into replicating this concept across other industries, establishing two additional verticals.  
Q. Can you share your perspective on how India can position itself as a global manufacturing hub? A model that comes to mind is that of TSMC, which started at the right time, worked with renowned brands, and has become a dominant semiconductor industry manufacturer.
A. TSMC is a fitting example. It is a contract manufacturer producing semiconductors, a technologically advanced field. They may have their manufacturing IP (Intellectual Property) and other similar IPs, but not specifically product IPs. As contract manufacturers, we find ourselves in a similar position.
Is there an opportunity for Indian companies like Aequs to establish a global presence? We are already a global player. Our competition is international when we compete for projects and work with customers.
Initially, our approach was relatively straightforward. When I joined this industry, we primarily focused on providing services but decided to venture into manufacturing. Given that India has excelled in engineering and IT services, we asked ourselves, why not expand into manufacturing services? Consequently, I view my company as a provider of manufacturing services, regardless of the industry. We aim to address vertical-specific needs and leverage India's engineering capabilities and labor cost advantages – India's labor costs, for example, are one-third of China's and half of Vietnam's. By combining these two strengths, we can compete on a global scale.
Of course, some obstacles and challenges remain, but we can delve into those as we continue our discussion. Ultimately, the prevailing opportunities exist, and we have the potential to leverage them and establish ourselves as a global player.
Q. Can you take us through your entrepreneurial journey since before you founded Quest Global? 
A. It was a simple idea. Before starting Quest Global, Ajit Prabhu (Quest Global co-founder) and I worked in multinational companies and noticed that Indian IT service providers catered to international IT companies. It struck us that engineering was an untapped opportunity in 1997, as no one was venturing into it. Additionally, my partner's boss was willing to entrust us with the first project, prompting us to establish our own company. With the help of friends and family and swiping our credit cards, we put together some capital and started on our journey.
Since then, Quest Global has thrived. Today, it has a team of about 17,000 engineers. My partner continues to drive the company's global business. We expanded beyond aerospace to various other verticals.
In the aerospace sector, we realized we were providing our customers with a comprehensive range of services, including design, fixture manufacturing, manufacturing, and cutting tool designs. However, we discovered that after receiving these services, our customers were outsourcing the manufacturing aspect elsewhere. This prompted us to ask our customers if they would consider coming to us for manufacturing. They responded positively, expressing their interest in sourcing from India due to the offset requirements set by the Indian government. This presented a favorable opportunity for us.
Although our initial investors were not keen on the idea, we persisted and shifted our focus to manufacturing. In 2014, Quest Manufacturing rebranded to Aequs. Today, Aequs operates as a multi-vertical manufacturing service.  
In 2016, a leader from Hasbro visited India, seeking alternatives to China and a way to mitigate risks. Impressed by our aerospace ecosystem, he approached us for potential collaboration. We were still determining if we could compete with China at that time. However, upon assessing the products and pricing, we realized we could offer a more cost-effective solution by reducing labor content by 20-25% and addressing other material costs. This allowed us to provide a 10 to 15% lower cost. Over time, we have maintained competitiveness on a global scale, adapting to China's changing pricing strategies based on supply and demand.
Our success extended beyond toys to the consumer durable industry by leveraging partnerships, such as the joint venture with Magellan Aerospace for surface treatment, the joint venture with Aubert & Duval for forging, and the acquisition of the joint venture with Saab Aerospace for assemblies. Through these collaborations, we brought in global players as partners, forming an ecosystem that enables us to deliver vertically integrated solutions to our customers. This journey continues.
To compete globally, rapid scalability is essential as customer demands persist. We have achieved this by establishing a ready infrastructure, a trained workforce, and organizational capabilities to accommodate growth. Only through this combination can we deliver value to customers in a timely manner, initiating new projects quickly and on time.
Q. Please share with the readers the kind of challenges that you saw while building this ecosystem in India. What is your message to readers from different manufacturing sectors on building similar ecosystems and adopting similar best practices in other Industries?  
A. Creating an ecosystem became imperative for expansion. As you may be aware, procuring a 250–300-acre plot and making such a commitment involves significant resources. Additionally, we realized that sustaining manufacturing operations in a bustling metropolitan area would pose challenges in the long term. Hence, we strategically decided to relocate to the serene interiors of Belagavi, Karnataka, to establish this ecosystem.
There were many people who, at that time, dismissed the idea. They asked why this was not being implemented in Bangalore or some other state [other than Karnataka], suggesting that setting up a special economic zone was unnecessary. They asked why the project couldn't simply utilize an existing one. Still, we were resolute in our understanding that this venture was not aimed at achieving immediate returns on investment but rather was a long-term investment decision spanning 20 to 30 years.
When I started putting efforts towards that – and I made a statement to this effect back in 2008-09 – our goal was to add 100 percent in-country value, and it has taken 15 years to get to that goal.
This year we'll deliver aircraft wheels with a hundred percent in-country value-add. We will be sourcing the material from Hindalco Almex, forge it at our JV with Aubert & Duval at SQuAD (SQuAD Forging India Private Limited), do the machining at Aequs and surface treatment at API (Aerospace Processing India Pvt Ltd) to ship it to customers. This level of in-country value-add is rare in terms of strategic investment.
We are making long-term investments. For instance, we brought a 10,000-ton hydraulic press, a first in the country. It took us two years to get it up and running and another three years to be certified by the customers and start using the parts from that. The ROI on this could be a 10-20 year timeframe. To invest in the aerospace industry, you must have an investment horizon like that. Today I can proudly say that any new aircraft out there has a part made at Belagavi, Karnataka. 
To share another example, we have been delivering parts to Airbus with 110 percent OTIF for over 30 months, and that's a testament by itself to our ability to provide globally competitive, quality products. To meet the quality, productivity, and cost requirement was what our goal was, to begin with, and we believe that we are there. We can scale this further. That said, we are still one among many players from a global aerospace market perspective.
Q. What were the reasons that motivated you to build a vertically integrated supply chain base at one location?
A. In the aerospace sector, manufacturers source parts and raw materials worldwide. They sometimes travel several thousand kilometers involving suppliers based at different locations before they reach the manufacturer.
By consolidating these established systems within a single zone alongside suitable partners, I believe we could greatly enhance efficiency and significantly decrease our carbon footprint. We could do this because we were starting from a clean slate.
Achieving something of this nature within an existing ecosystem would have been highly impractical, as it would introduce complexities. Installing a new forging press is rare; it happens only once every few years or even once in a decade, given the substantial cost of $20 million dollars. Once implemented, it acts as an anchor bolt, forming the foundation for the surrounding ecosystem to develop. We aimed to establish machining as fundamental expertise and construct complementary components around it, thereby boosting the value added within the country.
Q. Fascinating. Expanding from aerospace manufacturing to toy manufacturing – was this a leap of faith or a natural progression?
A. Like in services, every action I take must prioritize customer commitment. It is essential to have a market or customer willing to purchase and fully embrace our strategy. Together, we can execute and achieve success when someone is dedicated to a system. In this specific case with Hasbro, they demonstrated commitment to the strategy by expressing their interest in sourcing $200 million from India. Hasbro became our anchor customer.
We embarked on this journey with a clear vision to build everything from scratch. Our initial endeavor involved establishing a pilot facility spanning 40,000 square feet. Subsequently, we expanded our operations, constructing a 200,000 square feet facility, an additional 600,000 square feet, and another 700,000 square feet. To facilitate this ambitious growth, we established the Koppal manufacturing ecosystem.
It is worth highlighting that the [Indian] government has been actively supporting our industry. This industry is currently engaged in discussions with the government regarding the potential implementation of a Production Linked Incentive (PLI) scheme specifically designed for the toy industry. The government recognizes the industry's significant contribution to employment generation as its greatest strength. Within one to two weeks of training, unskilled labor can easily transition from agricultural areas to manufacturing facilities. This can create many jobs in the country, and we consistently emphasize this point to the government.
 Q. Having made a foray into the toy industry, you've taken on the manufacturing might of China, which I understand is a dominant force in toy manufacturing.  This endeavor demands more than our industry's current strengths; it calls for an X factor that we can harness to our advantage. From your perspective, how do you envision your ability to compete with legacy players in this business?
A. Our decision to pursue this strategy was primarily driven by two key factors: our strong engineering abilities and the advantage of labor arbitrage. In the long run, it is a sensible approach. When a customer relies on sourcing their products from a single geographic location for a certain period, their mindset will inevitably change at some point.
We anticipated this shift in the industry from the outset, although the timing was uncertain. We were aware of global trade-related challenges and various geopolitical situations. We have observed that customers are increasingly interested in mitigating risks by diversifying their product manufacturing away from China, aiming to relocate around 15-20 percent or more of their operations to other countries. With our robust platform and operational efficiency at scale, we are confident there is no reason for them not to collaborate with us.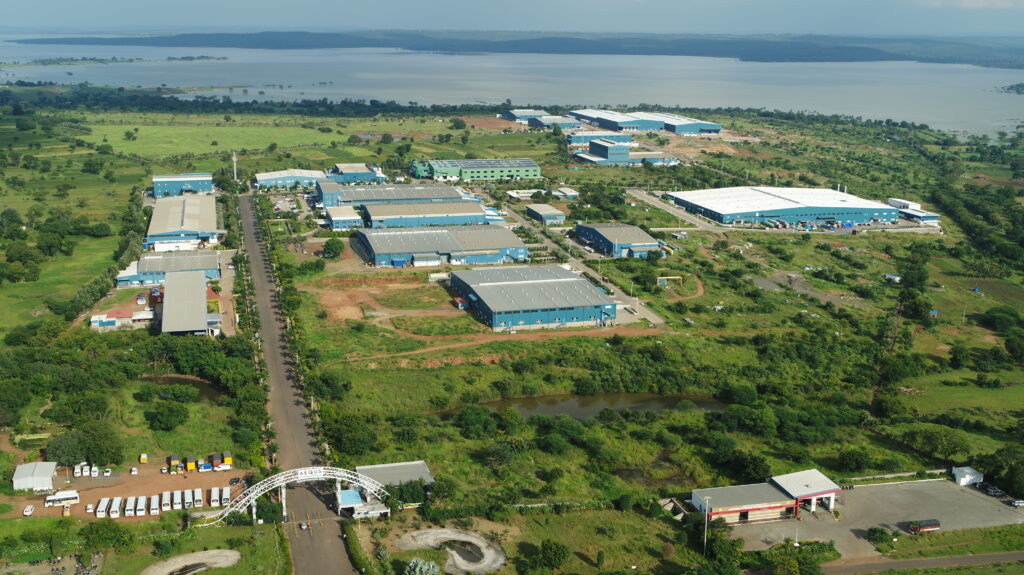 Unlike most domestic manufacturing units, which are relatively small, ranging from 10,000 to 20,000 square feet, facilities in Vietnam and China typically span half a million to a million square feet. Our achievement lies in creating similar facilities in India – an ecosystem within a 400-acre zone, effectively replicating a miniature version of China's city-wide ecosystem. By providing this comprehensive solution, we instill confidence in our customers that we can consistently deliver high-quality products on time and at competitive prices, prompting them to embrace risk diversification willingly.
To draw a parallel, aerospace customers have expressed that our approach aligns with their needs as they face a similar situation. However, it's important to note that while aerospace involves hundreds and thousands of parts, in toys, we are talking of hundreds of thousands of products. Therefore, it is crucial to recognize our strengths, focus on our starting point, and progressively expand our capabilities in product development expertise.
Q. My next question has to do with consumer durables. How are you taking the idea of the manufacturing ecosystem to the toys industry?
A. During the COVID-19 pandemic, India realized that the country faced a situation where most consumer goods were predominantly imported from China, branded or rebranded, and marketed in India. This situation must change as the Indian government aims to promote local manufacturing under the "AtmaNirbhar Bharat" initiative. It is ridiculous to have products like a Dosa tawa, initially manufactured in China, sold in Mysore.
There is an excellent opportunity to manufacture these goods within India. To compete effectively, one must deliver substantial value within the country, enabling them to compete domestically and globally. By achieving scale, it is easier to compete in both markets. Our company, in its first year of operation, has already established one of the largest capacities in the country for producing six million pieces of non-stick cookware. As a contract manufacturer, we work with multiple suppliers and customers to support this production.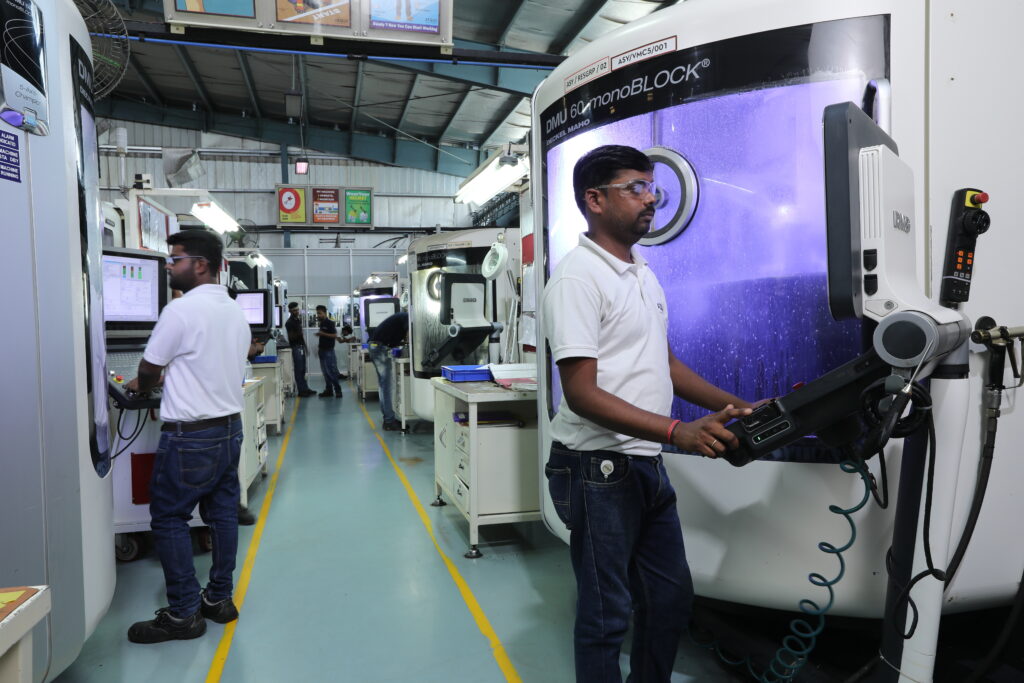 However, when competing globally, Indian manufacturers face specific inherent logistical challenges. Factors like the cost of capital, inland transport, and shipping costs significantly impact our ability to compete globally. These challenges are beyond our control, and we expect the government to play a role in addressing them. Our focus remains on producing our products at the best possible cost, while factors like inland transport costs stay out of our control. Producers and logistics service providers can optimize by utilizing rail transport more efficiently, as waterways are not widely available in India. Currently, road transport is the dominant mode, but its costs differ from global standards. Our logistics costs are double that of China for domestic or international shipments.
For contract manufacturers operating in highly competitive markets with narrow profit margins of two to five percent, it is impossible to remain competitive with double the logistics costs compared to the global market. Another challenge is the cost of capital, which significantly impacts the industry, especially regarding working capital and credit terms. This broader economic issue needs to be addressed. When competing with Western players in the aerospace sector, the challenge was even more significant due to their ability to purchase more efficient equipment with negative interest rates. To overcome this, we sourced equipment from Western countries and collaborated with suppliers to match the cost structure. Our Belgaum facility has implemented a fully automated flexible manufacturing system aligned with Western standards to ensure similar efficiency. This strategy is crucial as more than labor arbitrage is needed when the labor content in a product is minimal, as is the case in aerospace. However, it presents a different challenge in areas like toys, where labor content is higher.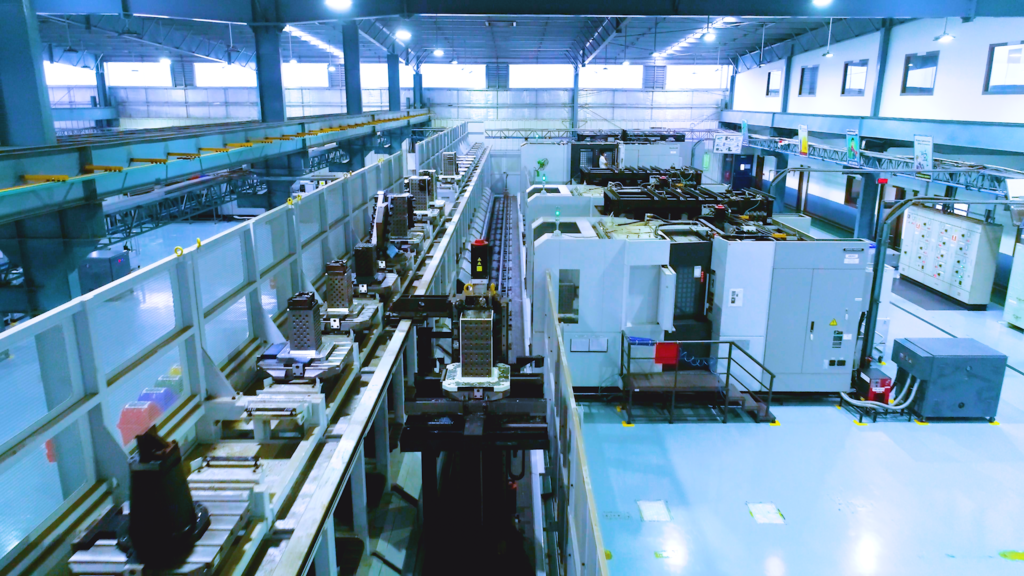 Q. What are your thoughts on the government's pro-industrial policies and initiatives? What are the areas that need a greater focus? 
A. Our commitment to manufacturing in India predates the Make in India campaign. However, we recognize the significance of the government's utilization of initiatives like Make in India to communicate India's priorities to the global community effectively. Such initiatives foster support and facilitate discussions surrounding themes like Make in India, enabling manufacturers to showcase their operations in India. They serve as a valuable starting point for discussing the scale of our endeavors, aligning with the government's priorities, and ultimately finding practical solutions. Nevertheless, it is crucial to emphasize that manufacturers should not have to rely solely on these themes to pursue business opportunities. Entrepreneurs should be encouraged to initiate their manufacturing activities promptly if a viable business proposition exists, regardless of industry, system, or environment.  
Q. Audience question: Can India embark on airframe MRO? If yes, by when?  
A. Airframe maintenance, repair, and overhaul (MRO) operations are happening in the country. Airframe MRO involves minimizing the duration of aircraft downtime for checks and inspections. The level of dedication in ensuring the aircraft is promptly back in service on the designated day is crucial. The turnaround time holds significant importance since every day an aircraft remains grounded; it accrues substantial costs for the airline. While labor cost advantages may exist in India compared to nearby hubs like Dubai, Singapore, or Sri Lanka, the cost advantage is negated if the MRO process takes longer. India requires plenty of MRO facilities due to the increasing number of aircraft. Most MRO partnerships in India currently collaborate with original equipment manufacturers (OEMs). It is not a matter of India's capability to perform MRO operations but rather the presence of a clear value proposition and institutional support. 
Executive Profile: Aravind Melligeri, Founder, Chairman, and CEO, Aequs
Mr. Aravind Melligeri is laser-focused on creating long-term value through innovative strategies. Aravind's differentiated approach to manufacturing has led India to increase in-country value-add and gain competitive advantage globally.
Over the last decade, he has built a vertically integrated aerospace ecosystem that drives scale and efficiency through co-located capabilities delivering end-to-end value streams. This unique ecosystem was awarded the prestigious "Global Airbus Innovation Award" in 2016 and recognized as the first of its kind in the world.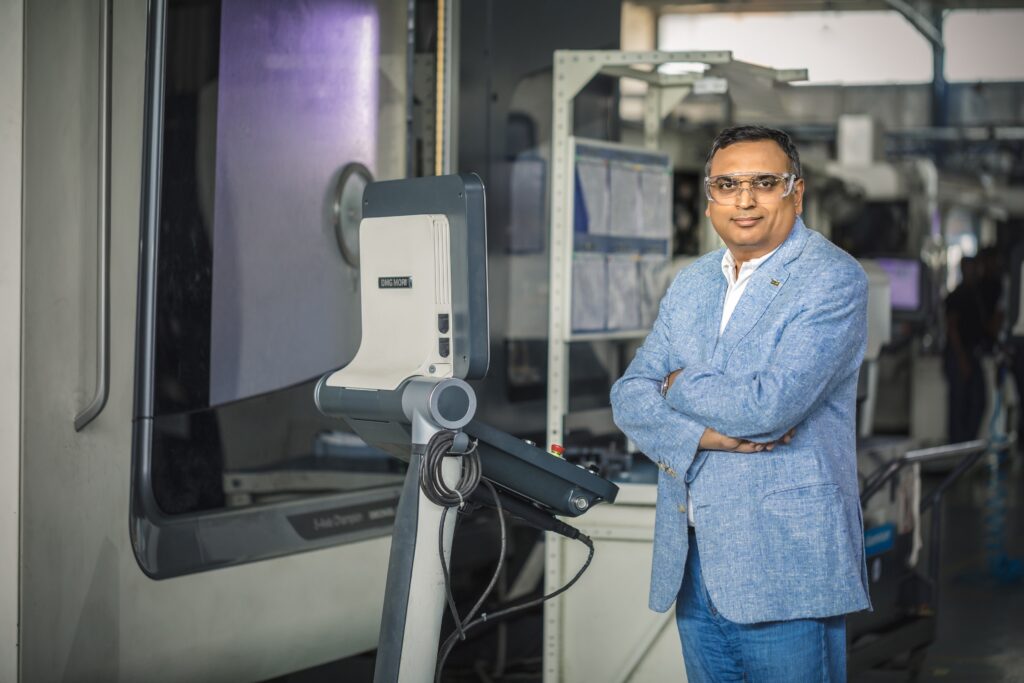 By leveraging its manufacturing ecosystems, Aequs reliably delivers supply chain efficiencies to its global customer base.  The company currently engages over 5,000 people at manufacturing facilities across India, France, and the United States.
With Aravind's resolute leadership and strategic collaboration with global companies, Aequs has become a preferred partner for global OEMs. Today, to add to the aerospace ecosystem that Aequs has built at Belagavi, Karnataka, the company has developed the Koppal Toy Cluster (KTC), India's first 400-acre toy manufacturing ecosystem in Koppal, Karnataka, and the Hubballi Durable Goods Cluster (HDC), India's first sector-specific Consumer Durable Goods Cluster, also in Karnataka. It is his vision to transform India into a global manufacturing hub.