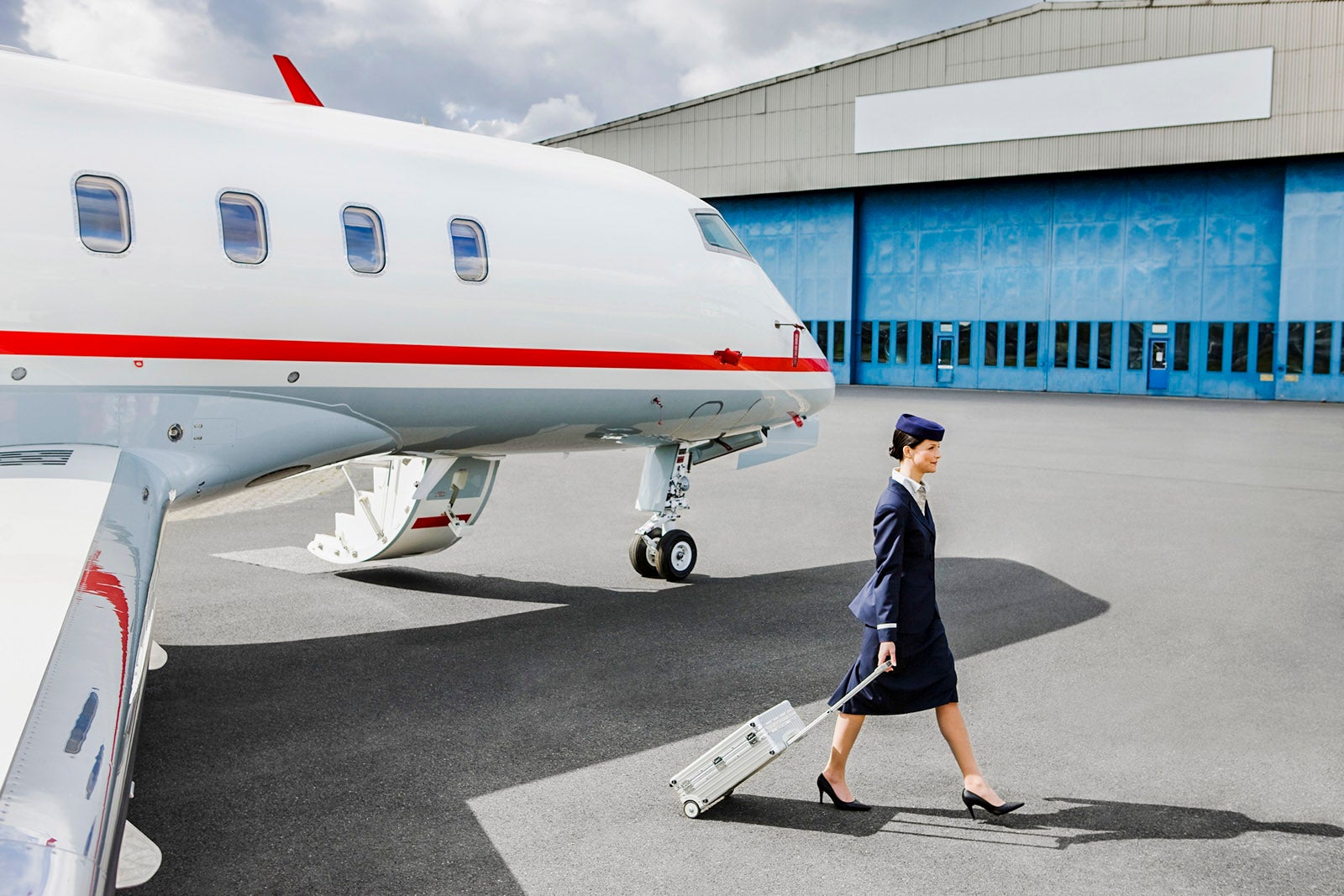 Summer has been frustrating for many travelers. July has seen multiple days of delays and cancellations, including Tuesday, July 25, when hundreds of fights were canceled at New York-area airports as thunderstorms moved through the area, according to airline tracking firm FlightAware.
Full planes, strikes, a shortage of air traffic controllers and overburdened airports are all contributing to mega travel snafus. In fact, it's become common to see flights canceled or delayed for hours (sometimes even overnight) in addition to schedule reductions and staffing issues. All of this adds up to frayed nerves and long lines at airports across the country.
In light of summer travel woes, we have plenty of tips to guide you through delays and cancellations so you get the help you need before your flight.
However, it can't hurt to seek additional guidance, so we turned to Lisa Kulpa, co-founder of the Basic Travel Couple blog who works as a flight attendant for a major airline. She gave us her best advice for how to avoid delays, what to do if you're stuck this summer and how to make travel a better experience for everyone (spoiler alert: Being nice to crew members goes a long way).
Related: Unsung Heroes: A flight attendant talks grueling schedules, 'commuting' by plane to work and being an AvGeek
Editor's note: This conversation has been abridged and edited for length.
When should you fly to avoid delays?
The first flight of the day will always be your best bet for a few reasons.
First, you have the least chance of flight delays on the first departure of the day. The plane was brought in last night, so it will be there waiting for you. This means you won't have to wait for the plane to arrive from another destination.
Flights later in the day also have a greater chance of delays due to weather, maintenance and delays getting in and out of gates, which pushes back the entire flight schedule day.
Reward your inbox with the TPG Daily newsletter
Join over 700,000 readers for breaking news, in-depth guides and exclusive deals from TPG's experts.
If you live in a smaller city and not a hub, taking the first plane is also important because it means the crew members likely overnighted in that city and will be available for your flight. (The only time this could backfire is if a crew member became ill, then they would be short and have to fly in another crew member.)
Another benefit to taking the first flight: The plane will be thoroughly cleaned overnight, which means you get a fresh, clean aircraft.
What are some of the reasons flights are delayed and canceled?
There are plenty of reasons for delays, but the biggest one in the summer is definitely thunderstorms. We cannot fly through them because it is unsafe to do so.
Staffing issues have also caused major delays. Not only is there a pilot shortage, but there have been shortages of flight attendants, gate agents, ramp operators and everything in between.
It takes many people to get a plane off the ground successfully, and if one person is missing, it'll delay the whole flight. For example, I was once delayed for baggage issues when ground ops was backed up because of staffing issues; we sat boarded on the flight for 45 minutes waiting for the baggage issues to be resolved.
We can also be delayed if maintenance issues arise, if air traffic controllers hold flights back due to weather or if runways are backed up. International flights can also hold you for border control. If they have too many flights landing, they will sometimes hold you on the plane to not back up customs too much.
How early should travelers get to the airport?
I'm seeing an increase in the number of people going through security. Give yourself enough time to get through!
If you don't have TSA PreCheck (or Clear), allow time to take out your liquids and electronics, remove your shoes and so forth. Pack lighter than you need so it's easier to breeze through security.
Plan to be at the gate at least an hour prior to your flight time, then add in time for security.
Related: 9 ways to get through airport security faster
How long should travelers allow for connections?
Every airline is struggling with staffing and the uncontrollable factors mentioned previously.
If you cannot fly direct and have to have a connection, I would say at least two hours is going to be your best bet for travel time for connections. This gives you flexibility for delays on either end. Anything under an hour is cutting it close.
Keep in mind that for domestic flights, you typically board about 30 minutes prior to takeoff, and for international ones, it is usually 45 minutes. Then, you have to account for another 15 to 20 minutes to get off the plane, and walking through the terminal can even take time. If your flight is delayed, even 15 minutes, it could cause you to miss a short connection.
What's the easiest way to rebook or get information about your delayed flights?
FlightAware is a great app to get ahead of the game. You can see any plane in the sky and details on when it is landing, where it is coming from and so on. It will show you if the flight is on schedule, which is helpful to know when determining if your flight will be delayed or not.
Your airline's app is helpful as well since you might get notified sooner about any delays or cancellations.
If your flight does get canceled or delayed, call the airline immediately and/or get in line at the customer service desk. Most likely, they are both going to take a while.
I would even start searching for flights on other airlines if need be. Google Flights is a great resource to type in your destination and see same-day available flights.
Related: Even more reasons to download your airline's mobile app — summer flight delays and cancellations
What should you bring on board, and what should you leave at home?
When flying, always bring a carry-on with necessary items such as car keys, medicine, electronics and whatever else you can't replace easily or wouldn't want to lose. If you check your bag, be sure to pack a change of clothes and a toothbrush to bring on board with you.
I also recommend a small blanket and/or a sweater. Airplanes can definitely be cold, and we most likely have no control over the temperature. If you really hate wearing shoes on an airplane, bring flip-flops; please don't go to the bathroom barefoot.
Always bring headphones, especially for little ones with electronics.
Please, please, please do not bring personal alcohol and consume it during the flight. We need to know (for your safety and those around you) if you are intoxicated. By serving you alcohol in flight, we can monitor how much you are drinking. Alcohol affects you differently at higher altitudes, and if you are suddenly passed out or something goes wrong, we won't know the reason. Also, it is a federal offense, and you can be fined thousands of dollars.
Other things to not do or bring in flight: nail clippers, nail polish, nail polish remover — these products will make the whole plane smell, and some people get sick from it. Other smelly things that are not really wanted include any extremely fragrant food. Even fast food sometimes stinks up a plane.
What advice do flight attendants want you to know?
Just remember: Please be nice. We are more willing to help you if you are nice, and there really is no need to be rude. We know you are upset about XYZ and missing whatever event. However, we don't purposely delay and cancel your flight to ruin your trip. Things happen. If you absolutely have to be somewhere, fly out the day before to give yourself enough time to be flexible and not stress.
Also, whether it's through a great premium travel credit card or on your own, make sure you purchase trip insurance. If your flight is delayed for hours or canceled, the insurance should help you cover a hotel and food (depending on the credit card or coverage).
If crew members are serving snacks or beverages, please wait for them to finish before using the restroom. It is not easy to push carts or carry trays of drinks while maneuvering around standing passengers. If you can hold it, do so.
Also, be prepared with your drink order. There is either a beverage menu in the seatback pocket or on the airline's app that we told you to be prepared with. One flight attendant usually goes through 50 passengers, and sometimes, we have very short flights to work with serving everyone. Just be ready.
For those who have anxiety when flying, here's one tip to help you out: Turbulence is as normal as a pothole in the road. It is safe, and planes are built to withstand the fluctuations.
Another tip: Watch to see when flight attendants are sitting. If they are strapped in, most likely, we are going through weather and were told to stay seated. You can expect bumps. This is not the time to use the restroom. Please be safe. If extreme turbulence does happen, you can get injured or fall on others and injure them. It is not worth the risk.
Follow Lisa Kulpa on Instagram @basictravelcouple or visit her blog at basictravelcouple.com.
Related reading:
Additional reporting by Clint Henderson.