The Bachelorette
villain Brayden Bowers has thrown shade at Charity Lawson's remaining bachelors for suddenly reneging their eagerness and willingness to get engaged at the end of the process.
On The Bachelorette's twentieth season, Brayden took a lot of heat for saying his goal was to form a connection with Charity and leave the show feeling "content" about their relationship.
RELATED LINK: 'THE BACHELOR' FRANCHISE COUPLES NOW: WHO IS STILL TOGETHER?? (PHOTOS)
When Brayden voiced how he didn't think he'd be ready to propose marriage to Charity by the Final Rose Ceremony, the other Season 20 bachelors appeared shocked and disturbed — especially Aaron Bryant and Adrian Hassan, who both warned Charity that Brayden wasn't taking the show seriously.
Brayden ultimately self-eliminated from The Bachelorette, with Charity's men thinking he had gone on the show for the wrong reasons and with bad intentions, but now he's having the last laugh.
"I don't want to shade anyone, but at the same time, I wasn't the only one who turned out to be having a little bit of doubt about the engagement," Brayden told Ashley Iaconetti on a recent episode of her "The Ben and Ashley I: Almost Famous Podcast" that she co-hosts with Ben Higgins.
"These guys came at me and wanted to, like, I don't even know, [villainize me]. But they had the same reservations I did! They lied and they didn't step up to the plate and say they did."
The 24-year-old travel nurse from San Diego added, "They were like, 'Oh, I have no doubts about you, Charity!'… What the hell? I don't know, it's hypocritical a little bit, maybe?"
Charity has narrowed down her The Bachelorette suitors to Aaron B., Dotun Olubeko, Joey Graziadei, and Xavier Bonner.
On Monday night's episode of The Bachelorette, Xavier suddenly admitted to Charity that the idea of committing himself to one person forever scared him.
"That scares me because it's something I've never done before, and I want to do it once and I want to do it right. There has to be no doubt there," Xavier explained to The Bachelorette star.
"I know I want to get engaged and I know I want to get married; it's a question of is that you?… I'm trying to gain any sense of clarity. I don't know what that thing is that's going to make me fall in love. It's just going to happen. [But] if you're The One, I don't want to pass that up."
RELATED LINK: 'THE BACHELORETTE' COUPLES NOW: WHOM DID 'THE BACHELORETTE' STARS AND THEIR BACHELOR PICKS ULTIMATELY END UP WITH?! (PHOTOS)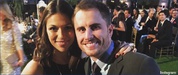 RELATED LINK: 'THE BACHELORETTE' COUPLES NOW
And during a July 17 preview for what's still to come on The Bachelorette season, Dotun admits, "This is a very trying experience for me. It's making me question, 'Am I really ready for this?'"
Aaron B. also confesses to Charity, "I know you want an engagement. I don't know if I can do that."
As a result of all the doubt and hesitation, Charity cries in the trailer, "Are you kidding?! We are a week away from you being on one knee and you don't even know what you want!"
Brayden called all of the talk about getting engaged so early into The Bachelorette process "bizarre" during his appearance on Ashley and Ben's podcast.
"They were coming in there, Day 1, like, 'I'm ready to get married to Charity.' Dude, you haven't even met her yet! You know what I mean? I didn't even understand how they could be in that place," Brayden explained.
"I've heard the attrition rate of relationships after The Bachelorette, and it's like, for me, if I was to get engaged, I wanted it to last. I don't want to just get engaged for a show or anything like that."
Brayden elaborated of Charity's suitors, "And I feel the guys were in a place where they'd get engaged just to get engaged. So I just couldn't relate to them."
Brayden said while he self-eliminated from The Bachelorette, his departure was ultimately "a mutual decision" with Charity.
RELATED LINK: 'THE BACHELOR' COUPLES NOW: WHO DID 'THE BACHELOR' STARS AND THEIR BACHELORETTE PICKS ACTUALLY END UP MARRYING? (PHOTOS)
"I kept trying to be okay with the process… but every week, I kept getting caught up in this drama. I was doing it to myself because I just talked too much, I guess, and I was too open with everyone there," Brayden acknowledged.
"But because I kept having all this drama, I couldn't get out of my head and there was no way I'd be able to get to the point of getting [down] on a knee at the end of this experience."
Brayden said that since an engagement is what Charity wanted, he "couldn't give it to her" and so he "didn't want to waste her time."
He added, "I think she realized that I came to that conclusion and there was no [changing it]. So it was a mutual decision."
And when Brayden returned to talk to Charity at a cocktail party and apologize for his somewhat hot-tempered and brazen departure, he confirmed that he wasn't trying to get another chance.
"I wasn't really trying to come back," Brayden insisted.
Brayden was essentially chased off the show for interrupting Charity's time with the other guys. Aaron B., for example, yelled about how Brayden was disrespectful and hadn't acted like a man.
While Brayden didn't name Aaron B., he said he thought "the true villain" of Charity's The Bachelorette season "has shown himself already" and will show viewers more later this season.
RELATED LINK: 'THE BACHELOR' FRANCHISE COUPLES NOW: WHO IS STILL TOGETHER?? (PHOTOS)
Interested in more The Bachelor news? Join our The Bachelor Facebook Group.
About The Author:
Elizabeth Kwiatkowski
Elizabeth Kwiatkowski is Associate Editor of Reality TV World and has been covering the reality TV genre for more than a decade.