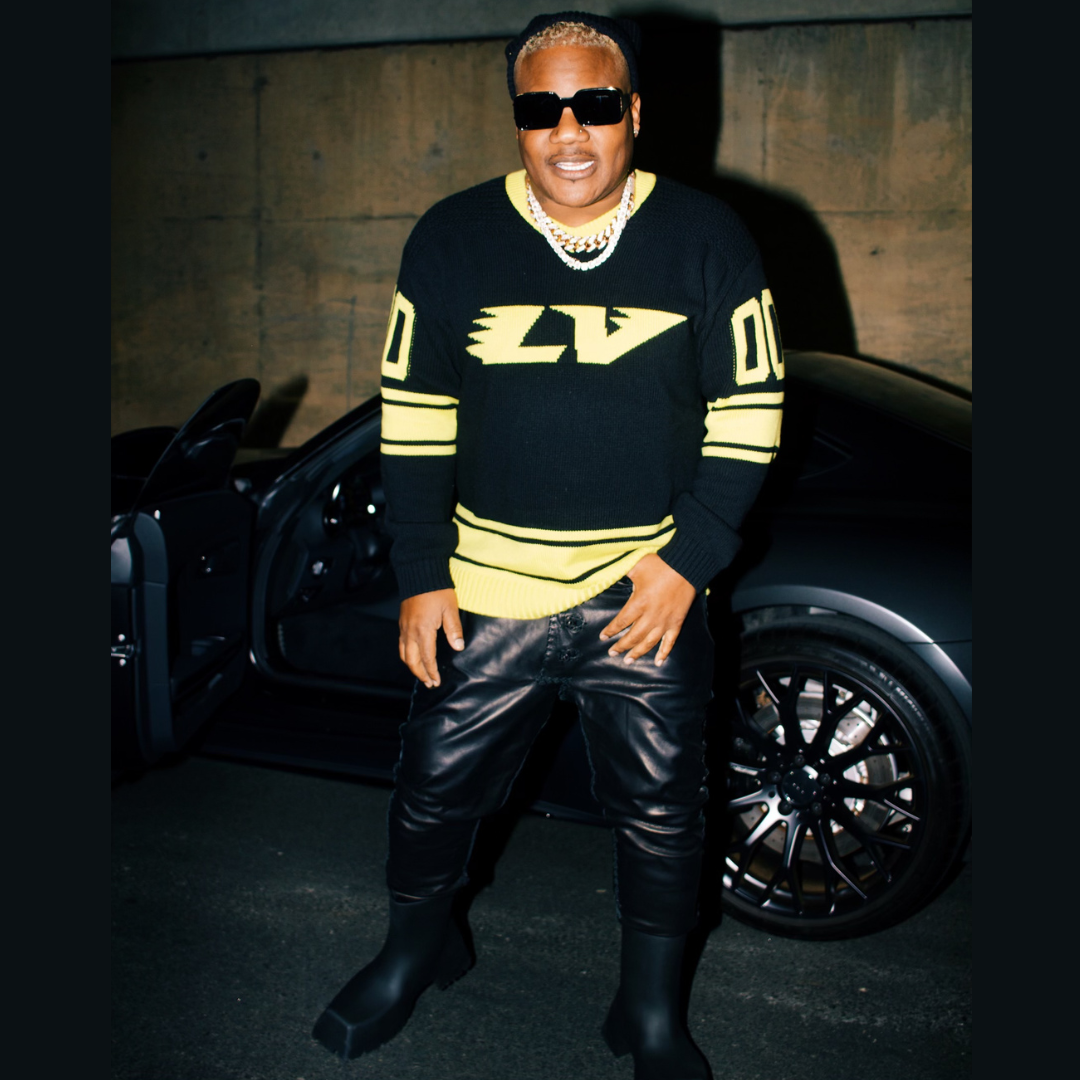 Grammy Award-winning songwriter and producer Sean Garrett has more than a dozen Billboard Hot 100 No. 1 credited to his name. The entertainer has penned hits for some of the biggest names in the game including Usher, Beyoncé, Mary J. Blige, Summer Walker, and more. However, now he's ready to pour back into himself as a solo artist. 
The musician caught up with ThisIsRnB's contributing writer Flisadam Pointer to discuss the current state of the industry, AI songwriting, the anatomy of a hit record, and his next moves. Check out the full exclusive interview below. 
TRNB: You've experienced several evolutions in the game. What are your opinions on the way the dynamics of the industry have shifted, so far?
Sean Garrett: "I'm always excited about evolution. Moving forward is always a positive thing. Growing and growth is the type of energy I embrace. But I feel like, technically, we've lost the feel. I think we've lost that human touch. The human touch is missing from music. We're such feeling-oriented beings – our emotions run high, we love hard, and we care. It seems like this generation is a little bit less caring. For instance, Tina Turner recently passed. Her songs were so emotional. For me, as a creative, they just meant so much to. Today, people just don't seem to care enough about the particulars.
Nicki Minaj said something that was really profound, 'Record labels aren't really interested in talent anymore. They're just interested in who's popular.' And that's powerful because some people are going to suffer. Here today. Gone tomorrow. We have to stand for something. Getting money is cool. But having a legacy – having something to look back on and feel proud of is also really important."
Speaking of the labels, there are a few labels that have started to integrate AI songwriting and artists onto their roster. What are your thoughts on the rise in popularity in AI songwriting?
"I mean, it's artificial. I'm not against change or growth but you get out what you put out. If artists have come to the point where they will allow that to be where it comes from, I feel bad for them. The human side of music, has the range of love and pain and that's important. But at the same time, I feel like AI helps. Technology is always going to be helpful. But you have to be mindful. You have to be smart enough to realize too much of anything is not going to be good for you. 
It's just very unfortunate that we're allowing ourselves to be watered down. I'm just definitely disappointed because I think that we, as creatives and we as people have to be mindful of what we've been fed. We have to pay attention. I'm all for advancement. I'm all for technology. But everything needs to be used right in the proper way."
https://tidal.com/browse/playlist/4920c68b-5db4-47c7-9107-6b37ea3e421c 
So let's talk about your lengthy resume of emotional chart-topping hits. This generation is measuring the success of a song against TikTok metrics. But what actually goes into making a hit song?
"Your heart and soul. Your focus on what's happening in life, the realities of life, the pain, the joy, a combination of energy is a big part of the music. It's why people love something, right? And I can't get enough of it. Music is a roller coaster at times. So what goes into making a hit record is passion. Being up on what's up at the time. Understanding how people think, sentence phrasing, expressing emotion, and a little bit of tactical nuances. And then just really being fearless. 
Being a hitmaker – when you're creating a record you have to be fearless. Being willing to try sh*t that's not normal. You have to be willing to bring things back that people loved before. But at the same time not being scared to venture out. A lot of the number ones I had, I was told that they weren't hits. So I enjoy the challenge of making hit records. I enjoy the challenge of breaking the barriers – doing something that creates an experience. Whether it's a viral experience – that TikTok experience or just a great spirit experience."
Some of your numerous hits have come when you've collaborated with Usher. From "Yeah!" to his latest single "Glu," there's such a dichotomy of sounds. How do you prepare your mind when you go in to partner with another artist on a track?
"I also worked on his record 'Papers.' That was another record that was an absolute game-changer. At the time, he was going through his first divorce. He was concerned about his life. He was concerned about his family. He was concerned about the situation. It's crazy to see one of your friends going through something. He had already released a record called 'Moving Mountains,' and it wasn't really doing it. So I wrote 'Papers' because I was like, 'Bro, you grew up in front of the world. So, of course, they want to know everything about you, right? Everyone can relate to a situation like this.' So for me and Usher, we've damn near grown up together. 'Yeah!' was my first song out and it was my first number-one record.
It's about pulling from within that artist. All of the records that came after that were Hot 100 game-changing records. From Ciara's 'Goodies' to be Beyoncé's 'Check Up On It,' Chris Brown's 'Run It!,' Fergie's 'London Bridge,' Pussycat Dolls' 'Buttons' and Destiny's Child's 'Soldier' and 'Lose My Breath' then Mary J. Blige's 'Enough Cryin.'" 
You said it so casually these are monumental tracks and pop culture moments. Right?
"Yes. These are global moments. These weren't just records that you heard in a hood or on urban radio. No, these were groundbreaking records that crossed over every genre of music. From here to Europe to Japan and Australia. I'm very thankful and proud. I'm gonna talk my sh*t."
How do we know when it's time to let a track go and give it to someone else versus recording it for yourself?
"It's very difficult because you love them like your babies and sh*t." 
Is there any song, in particular, you regret giving away?
"Well, fortunately enough, 'Breakup' was a record that I ended up cutting a deal for. That was my first single off my tape. But I ended up cutting the deal with my brother Mario's manager at the time. I had already told him before I played the songs, 'Yo, you know, this, my sh*t is coming out.' So he came back like two days later was, 'Sean that record! Can we kind of deal with you?'
That record helped me, Mario, and Gucci Mane. I think that was that might have been one of Gucci's first number-one record. That was my first number-one record as an artist. And that might have been Mario's second or third number-one record. So, I looked at it like, 'Let me share this record with all of the people that I like. That, I think, is dope.' 
If I wouldn't have been on it I would've regretted it. It was groundbreaking. Shout out to my brother Bangladesh, RCA, and everybody that has something to do with that record."
You made history during your Verzuz matchup. Would you want to return to the platform? If yes, who would you want to go up against?
"Absolutely! The Dream and I were the first to go viral. I really want to rematch because I really felt like, I had to check my ears. The joints I played were hit. I think it was a landslide in my favor as far as I was concerned. I was playing number one records. I played at least 12 back-to-back. But it was all fun. 
I think we need to upgrade my scale competition though. I'm saying anybody talking that number one talk we need to set it up. You know, like DJ Khaled, Pharrell, or Timberland."
Online, there is talk of your friend, Usher lacing up for a Verzuz match-up. Who do you think he should face off against?
"Who do you have in mind?"
If I'm being honest, there's only one person — an intergender matchup with Usher and Beyonce. 
"I agree with you 1,000%. I think they should do that for the fans. I think they should actually do that in a stadium. Make that what is supposed to be – a real show."
So what can we expect from you? Is there going to be a full album and EP, like, what are we getting? What space are you in right now?
"I'm in a very happy space. I'm working on my album. I'm excited about my sh*t. I'm at the point where I'm focused on my solo career. I gave so much to the game, and it gave so much to different people. I just want to get out and have a good time and celebrate my life and celebrate great music with the fans, make great music, and do shows and touring. I'm going to put out an EP first.
I have so many amazing collaborations from my past album – Drake, Nicki Minaj, Yo Gotti, and more. So I'm gonna add that onto DSPs, remixed and remastered with the anniversary on the way. My new R&B EP is coming this summer. And then I'm dropping another one a month after that. I'm dropping another EP that's more global. Big collaborations and sh*t. I'm back outside. I got this record that I'm coming out with and I'm gonna say it's gonna be controversial. But it's definitely you know, women will definitely rock with it. Men really definitely gonna rock with it."
You've practically worked with everybody at this point, but is there anyone new acts that you would love to either have on one of the projects?
"I'm a big fan of quite a few artists out right now. I'm a big fan of Summer Walker. I'm proud to see her evolution. She's really great. I'm a big fan of SZA. I really love SZA's voice. I think she's absolutely incredible. She is just a problem. I like Doja Cat is really really dope. There are quite a few artists out like today that I really admire. Right. And I'm going to, you know, got a couple of surprises up my sleeve."
Can fans expect a tour for your upcoming projects?
"It's that time! It's time to get on the road. People have been asking for me to come and do tours in Europe and Japan. I'm definitely going to be popping up out there and of course, here in America. I hope to be on tour by the top of the year. It just feels good to just be doing my own sh*t."
Do you want more of Sean Garrett? Be sure to follow him across your favorite social media platforms, including Instagram, Twitter, and Facebook.