Ukraine has retaken key village near Bakhmut, says Zelenskiy
The Ukrainian president says his forces have recaptured the strategically important village of Klishchiivka on the southern flank of the key frontline city of Bakhmut.
"Today I would like to particularly commend the soldiers who, step by step, are returning to Ukraine what belongs to it, namely in the area of Bakhmut," Volodymyr Zelenskiy said in his nightly video address on Sunday.
The deputy defence minister, Hanna Maliar, shared a video of Ukrainian forces displaying flags including the blue and yellow national flag, with ruined buildings and the sound of ongoing fighting in the background. Russia was still trying to regain lost positions despite Klishchiivka's liberation, she said on Telegram.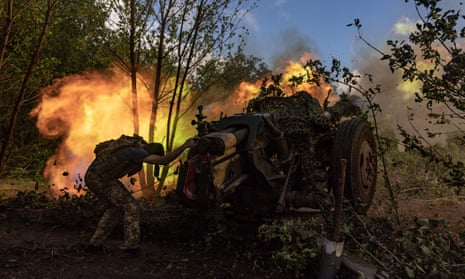 Col Gen Oleksandr Syrskyi, commander of Ukraine's ground forces, also confirmed the recapture of the village, which Russia claimed control of in January and is about 9km (six miles) south of Bakhmut, the city taken by Russia in May after months of heavy fighting.
Ilia Yevlash, a spokesperson for Ukrainian troops in the east, said the battle inflicted "powerful damage" on Russian forces.
Read the full story here:
Key events
US senator Mark Kelly was in Kyiv today where he met with Ukrainian officials and soldiers to assess the military's current needs and discuss ATACMS tactical ballistic missiles, which the Biden administration is considering providing to Kyiv.
"No single capability is going to make the difference between winning and losing," said the Democratic senator from Arizona, who praised forces for progress, though he said he wished it would move faster, AP reported.
Bridget A Brink, the US ambassador to Ukraine, tweeted about Kelly's visit to the country.
Here's some more detail on that earlier report that security services in Georgia accused a former minister of plotting from Ukraine to overthrow the Black Sea nation's government by organising mass unrest.
In a statement, it said it had been monitoring a group led by Georgia's former deputy interior minister, Giorgi Lortkipanidze, who it alleged was working as a deputy head of Ukrainian military intelligence and a former member of a strongly pro-western Georgian government. The statement reads:
According to confirmed and verified information, the implementation of the plan – developed by Giorgi Lortkipanidze – would involve a rather large group of Georgian fighters in Ukraine and a part of Georgian youth.
The service said the alleged plotters were plotting "destabilisation aimed at a violent overthrow of the government" and that they had planned to channel frustration among young Georgians if the US failed to grant their country candidate status at an EU summit in mid-December.
In response, Ukraine's foreign ministry spokesperson Oleg Nikolenko said Georgia was "trying to demonise Ukraine" for domestic reasons. Posting on Facebook, he said:
The Ukrainian state did not interfere, does not interfere and does not plan to interfere in the internal affairs of Georgia.
Andriy Yusov, a spokesperson for Ukrainian military intelligence, said it had never had a Giorgi Lortkipanidze as deputy head, though he declined to say whether it employed such a person, Reuters reported.
Zelenskiy to meet Brazil's Lula for first time on Wednesday
The office of the Brazilian presidency has confirmed reports that President Luiz Inácio Lula da Silva will meet his Ukrainian counterpart, Volodymyr Zelenskiy, on Wednesday.
The pair are expected to meet on the sidelines of the UN general assembly in New York after the Brazilian leader meets US president Joe Biden, Reuters reported, citing two sources in the Brazilian government.
Zelenskiy and Lula have never met, though they spoke by video call in March days after Brazil voted for a UN resolution that called for peace and demanded Russia withdraw its troops.
Last month, Lula told reporters neither Zelenskiy nor Russian leader Vladimir Putin were ready for peace. He has also previously irked western leaders by saying that both sides were to blame for the conflict.
Summary of the day so far…
Ukraine says it has filed lawsuit against EU neighbours over grain import ban
Kyiv says it has filed lawsuits at the World Trade Organization against its three EU neighbours – Poland, Slovakia and Hungary – over their bans on Ukrainian grain imports.
The central European countries went against a decision by the European Commission last week to end the import ban, with Kyiv warning of legal action.
The import bans have led to an awkward diplomatic spat with Poland, Kyiv's staunchest ally against Russia.
"It is crucially important for us to prove that individual member states cannot ban imports of Ukrainian goods," Ukraine's economy minister, Yulia Svyrydenko, said in a statement.
"That is why we are filing lawsuits against them.
"At the same time, we hope that these countries will lift their restrictions and we will not have to settle the matter in courts for a long time," Svyrydenko said, according to AFP.
She said Ukrainian exporters "continue to suffer significant losses" over the bans.
Russia's invasion has hugely disrupted Ukrainian grain exports in the Black Sea, resulting in the EU becoming a major transit route and export destination for Ukrainian grain.
Poland, Slovakia and Hungary defied a European Commission decision to end restrictions on Ukrainian grain, extending their bans.
China's top diplomat on Monday began several days of security consultations with Russian officials (see earlier post at 06.31).
The foreign minister, Wang Yi, who simultaneously holds the ruling Communist party's top foreign policy post, will be in Russia through to Thursday for strategic security consultations, the foreign ministry said in a brief statement.
Wang opened his talks with Russia's foreign minister, Sergei Lavrov, by hailing "strategic cooperation" between the two countries and their shared commitment to a "multipolar world" and a "more just world order".
In comments quoted by the Associated Press, Wang said:
China and Russia, as leading global powers and permanent members of the UN security council, bear special responsibility for maintaining global strategic stability and global development.

The more violent the unilateral actions of hegemony and bloc confrontation become, the more important for us to keep up with the times, show a sense of duty as great powers, and further fulfil our international obligations.
Brazil's president, Luiz Inácio Lula da Silva, will meet his Ukrainian counterpart, Volodymyr Zelenskiy, in New York on Wednesday, two sources from the Brazilian government said on Monday.
Lula has irked some western leaders who support Ukraine's fight against Russia with his refusal to take a clear side in the war.
Lula has attempted to position himself as a potential peace broker between Moscow and Kyiv, arguing some countries must remain "neutral" if peace is to be achieved.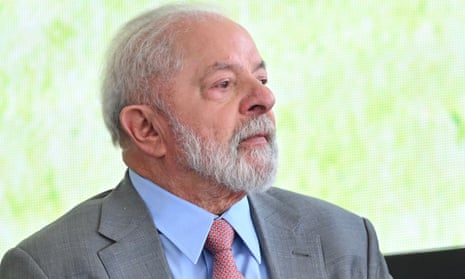 Russia's central bank said on Monday it expected annual inflation to continue to rise in the coming months, Reuters reports.
The bank said inflation was being fuelled by the weakness of the rouble and by growth in domestic demand outstripping supply.
It expects annual inflation to be 6.0–7.0% in 2023, before returning to its 4% target in 2024 and remaining close to that level.
The rouble has had a period of turbulence since Russia invaded Ukraine in February 2022, dropping to a record low of 150 to the dollar two weeks after the start of the war before sharply recovering after the central bank imposed strict capital controls that limited the flow of money out of the country.
Ukraine breached Russian lines by taking two eastern villages – commander
The commander of Ukrainian ground forces said the recent recapture of the eastern villages of Andriivka and Klishchiivka had enabled Kyiv's troops to breach Russian lines near the devastated city of Bakhmut (see earlier post at 06.07).
"These settlements, at first glance small, were important elements in the enemy's defensive line which stretched from Bakhmut to Horlivka," Gen Oleksandr Syrskyi said on Telegram, referring to a town about 40km (25 miles) from Bakhmut.
"As a result of our troops' successful actions, the enemy's defensive line – which it tried to close by throwing all available reserves into battle – was breached."
Syrskyi said Russian troops were still trying to regain the positions they had lost in the Bakhmut sector, and that fighting there was heavy. His claims are yet to be independently verified.
Ukrainian forces have been conducting offensives north and south of Bakhmut for several months in order to dislodge Russian units.
Ukraine military analysts said this week the liberation of settlements near Bakhmut would allow the military to advance from the southern flank in the area, gaining control of the heights.
Pope Francis welcomed Russia's new ambassador to the Vatican on Monday and the envoy said the pontiff told him he was determined to forge ahead with his peace and humanitarian initiatives for Ukraine.
The envoy, Ivan Soltanovsky, said Francis also told him he wanted another meeting with Patriarch Kirill, the head of the Russian Orthodox Church, who has strongly supported Vladimir Putin's invasion of Ukraine.
Soltanovsky, a 68-year-old career diplomat, presented his credentials to Francis at the Vatican, succeeding Alexander Avdeev, who was ambassador when Russia invaded Ukraine last year, Reuters reports.
Russia summons French ambassador in protest at exclusion of journalists from Macron briefing
The Russian foreign ministry said it summoned French ambassador Pierre Levy on Monday to protest over what it called the "discriminatory and openly Russophobic" actions of French authorities against Russian journalists at the recent G20 summit in New Delhi.
It said reporters of RIA Novosti and the editor-in-chief of Russia-News were "rudely denied" access to the press conference of France's president, Emmanuel Macron, according to Reuters.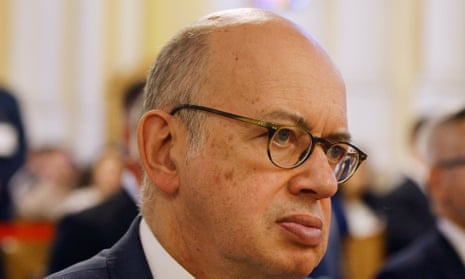 The EU is gearing up for a fight over what should be included in its 12th package of sanctions over Russia's war in Ukraine, Bloomberg News reported on Monday.
The new measures, which could be presented as early as next month, would probably include the EU's version of the upcoming G7 ban on purchases of Russian diamonds and possibly a long-awaited proposal to use the profits generated by frozen central bank assets to aid Kyiv, the report added, citing people familiar with discussions.
Western governments have imposed sweeping economic sanctions, including Russian oil import bans, on Moscow for its invasion of Ukraine in February last year.
Tass reports that Russian security forces claim to have arrested two men belonging to the Freedom of Russia Legion that were planning to attack an administrative building in Rostov.
Citing the FSB, Tass writes that "during a search, four molotov cocktail bottles, filled out forms of contracts for service in the armed forces of Ukraine, as well as questionnaires and handwritten statements with an anti-Russian position" were found.