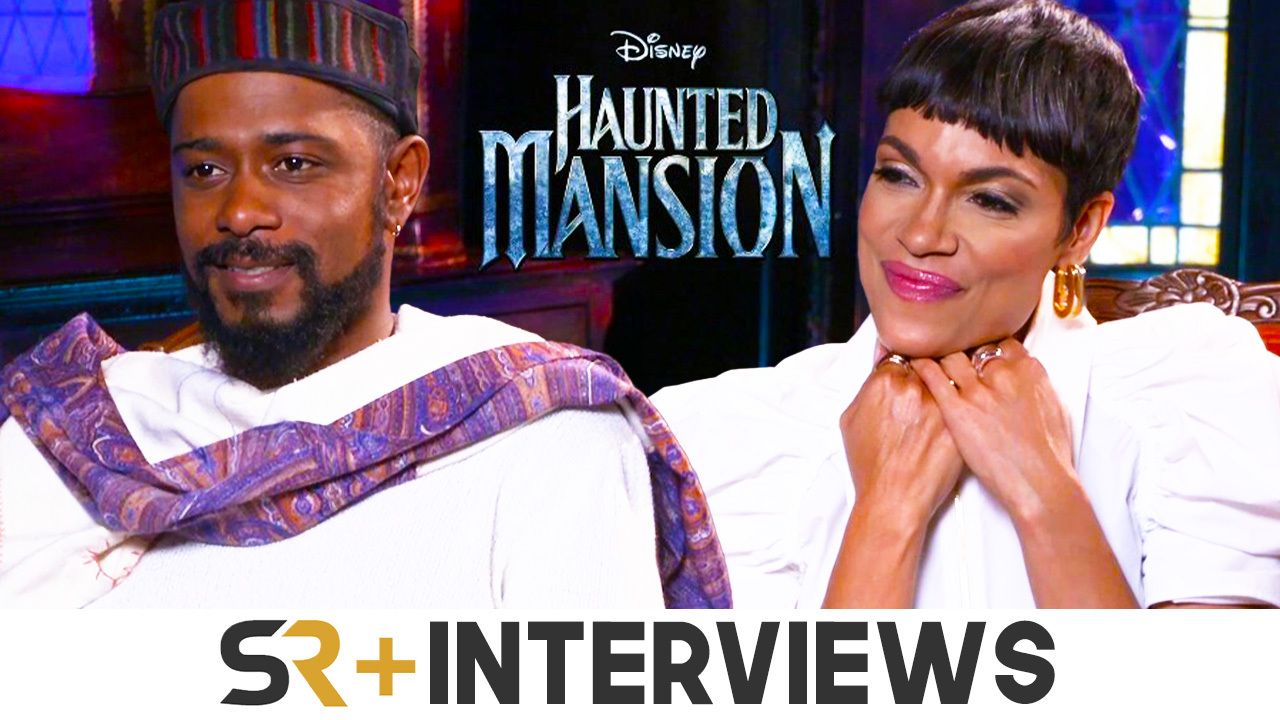 Summary
The upcoming Haunted Mansion film adaptation features a stellar cast, including Rosario Dawson, Lakeith Stanfield, Owen Wilson, and more big names.
The new version of Haunted Mansion incorporates more Easter eggs from the Disney ride and focuses on the emotional journey of its characters.
The mother-son dynamic between Dawson's character and Chase Dillon's character is a highlight of the film, with Dillon impressing the cast with his performance.
Haunted Mansion, which has long been a staple of DIsney Parks, is getting another big-screen adaptation that releases on July 28. The stellar cast includes Ahsoka's Rosario Dawson, Sorry To Bother You's Lakeith Stanfield, Loki's Owen Wilson, and many more big names. But the crux of the story may very well rest on the shoulders of Chase Dillon (Underground Railroad), who plays the son of Dawson's character and bonds with Stanfield's reluctant protagonist.
Haunted Mansion centers on Ben (Stanfield), a man of science who is roped into a ghost-hunting mission by Father Kent (Wilson) after the death of his beloved wife. When he arrives at the strange and lonely house, he is greeted by Gabbie (Dawson) and her son (Dillon), and learns that the ghosts who inhabit the place are stronger and more numerous than he could have ever imagined. While there was already a 2003 adaptation of Haunted Mansion starring Eddie Murphy, the newest version incorporates more Easter eggs from the Disney ride and focuses more on the emotional journey of its characters. Tiffany Haddish, Jamie Lee Curtis, and Danny DeVito round out the ensemble cast — though there are also plenty of cameos to delight audiences.
Related: Haunted Mansion: Release Date, Cast, Trailer & Everything We Know
Screen Rant spoke to Dawson and Stanfield about their favorite ghost stories from Haunted Mansion, how they bonded with their young costar Chase Dillon, and why the theme of grief features so prominently in the comedic movie. Note: This interview was conducted before the SAG-AFTRA strike, and the movie covered here would not exist without the work of writers and actors in WGA and SAG-AFTRA.
Rosario Dawson & Lakeith Stanfield Talk Haunted Mansion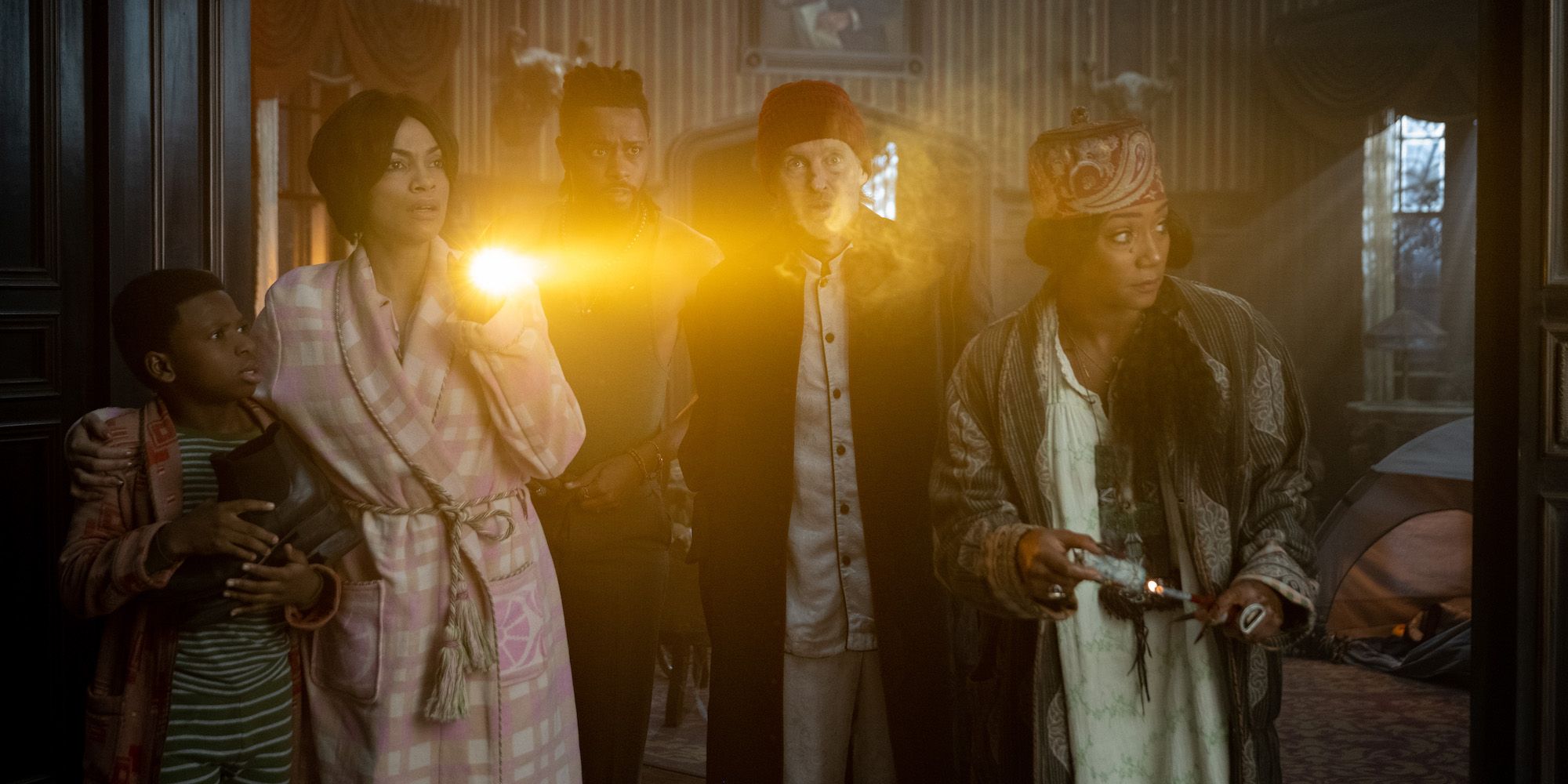 Screen Rant: I love Haunted Mansion, and I love that it's set in NOLA, because the city is synonymous with ghost stories. Lakeith, do you have any ghost stories that you love best from either of the film or your own experiences

Lakeith Stanfield: I really like when Ben goes to the graveyard to try and find his wife. He runs into the hitchhiking ghost out in the graveyard. That was a creepy-feeling moment that also just felt really surreal to be doing it running. It just felt like I was running through my subconscious in this weird way, and it was like a dream, but that I was living, but that I was filming. It was just a crazy triple entendre kind of moment there, but it felt amazing. It felt like a strange fever dream, but also a dream that I'm living out in real time being on a Disney set.
That's amazing. Also amazing was the mother-son dynamic with you, Rosario, and Chase as Travis. How did you guys kind of play that out on set? Was it just having a little mini-me around?
Rosario Dawson: Mini-me, that's definitely a really funny thing about Gabbie and that very clear influence on her son. But I have to say, every single time Chase texts me, he still calls me Mom. His parents are absolutely amazing. His mom's given me honorary parenting status, so I can give him [advice] or take away his phone if he's whiling or something.

I just love this, because I get to watch him. He's already evolved so much since we were filming. We had to go back and do reshoots and he was taller and his voice had changed, and everyone is just like, "This is the morphing period of his life." And it's just such a joy because he is just so magnificent as a human being and as a performer. I think some of the most fun, exciting, dynamic work I've ever gotten to do is acting opposite him and kind of seeing what we did.

Some of it we spoke about, but oftentimes it was kind of improv in the moment. I think that's actually one of the fun things about doing comedy, is that you have to keep… There are certain things you have to, timing-wise, keep, but there's an energy that really needs to be there for it to land. And so, it was just really fun to see how we never married ourselves to one way of doing it, because if we landed it and it was funny, then you had to try something else. It was just really fun to watch that with everyone else who was so much more seasoned in that.

But to watch that in him and to have that kind of provoked in the both of us is a lot of scenes that were written where we're there and we're watching and we're asking these experts to come and support us, but then we'd start ad-libbing and throwing looks and creating this relationship to make sure no matter what – if we were in the foreground or whatever as characters – you really felt this relationship be real. It was just really fun to just work with him and play with him.

Lakeith Stanfield: Yeah. Chase almost approached the role as if he knew what a child was, and he was not that.

Rosario Dawson: But he'd researched it. He was ready. Show us how good he could perform it. "Isn't it uncanny? Didn't you believe me?"

Lakeith Stanfield: "I played a child. Do you believe it?"
Even though it is very comedic, Haunted Mansion also tows that line very beautifully of dealing with grief, which Ben is especially doing. Can you talk about how meeting Gabbie and Travis really helped change and also the ghosts, of course, helped move him forward in his grief?
Lakeith Stanfield: Yeah. I think Ben had to confront what he had lost, which was his family and the people that were close to him that he loved. Now, he's seeing this new family, a new opportunity to save them, to try to do something right, to prevent them from going through the mourning and loss that he's going through. He's going to try to step in and be that savior to them, and then he finds out that the young child lost his father. Eventually, he finds that out and so it really kicks him into gear to step up to the plate and feel that slot where he was supposed to be feeling the whole time.

Sometimes, you're called to destiny, and I think he felt that this is my time to do what's right for me and correct course. Whereas in the beginning of the film, he's kind of like, I'm not as concerned with what's right. I'm doing what I have to do because I have to do it, but I don't want to be doing it. So it was sort of begrudgingly and he kind of had a chip on his shoulder. But I think over time, he humbled himself and allowed himself to step into his heroism and grace. It was great to go on that journey with him and learn and relearn a lot of the lessons that he was learning.
About Haunted Mansion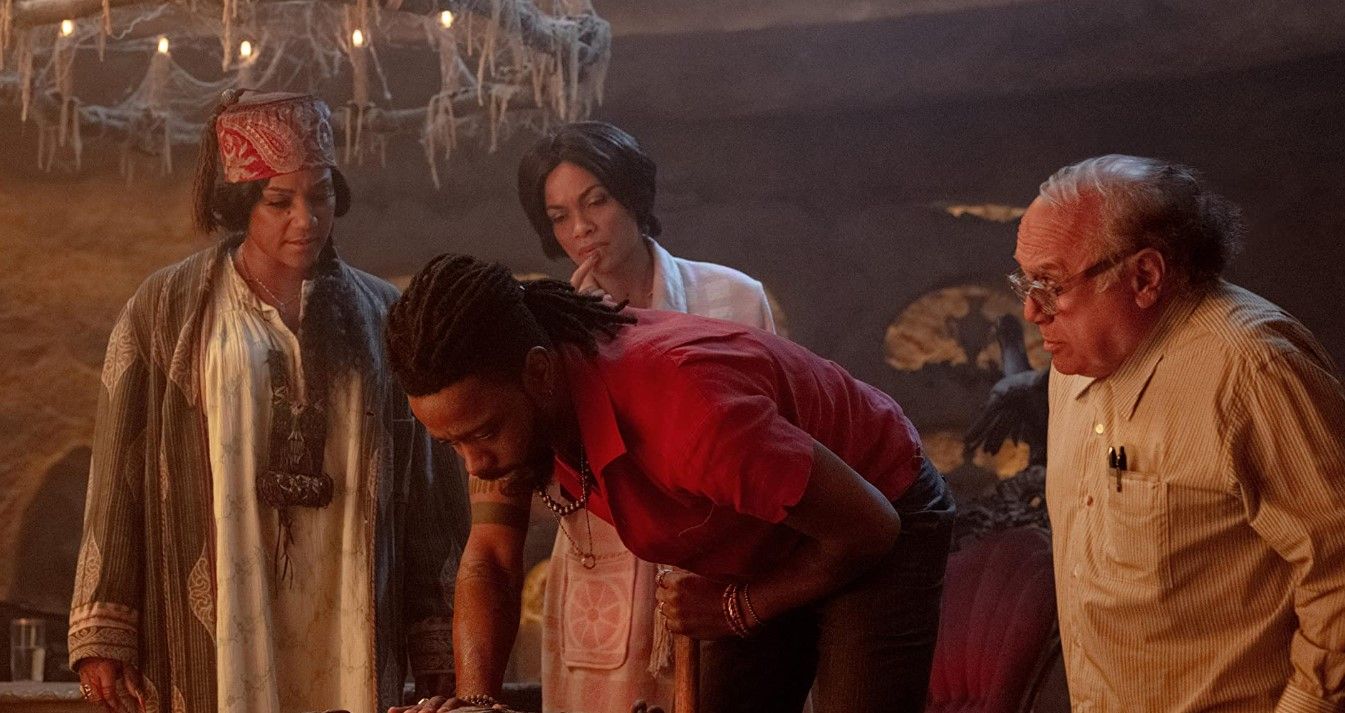 Based on the Disney theme park ride of the same name, Haunted Mansion is a supernatural comedy that shares no elements with the prior films. Rosario Dawson stars as Gabbie, a single mother with a son looking to start over and happens upon a mansion that seems too good to be true in New Orleans – and her hunch proves correct. To resolve her ghostly problem, Gabbie seeks the help of a priest and a widowed paranormal expert, a psychic, and a historian to hopefully rid her home of unwanted guests.
Check out our other Haunted Mansion interviews here:
Owen Wilson
Tiffany Haddish & Jamie Lee Curtis
Justin Simien
Haunted Mansion will be released in theaters on July 28.
Source: Screen Rant Plus