Looking for a quick hit of Netflix while you're on the road? A new tab in the mobile Netflix app should help cut down on the number of taps it takes to find something good to stream.
Rolling out now on the iOS version of Netflix and slated to arrive soon on Android, the "My Netflix" tab sits in the bottom right-hand corner of the app, replacing the Downloads tab.
Tap the new tab, and you'll jump to a "one-stop-shop" of Netflix videos you'll probably like, with a shortcut to downloaded titles near the very top.
The "My Netflix" tab also highlights notifications for your Netflix profile, as well as titles to which you've awarded a thumbs-up, your My List queue, reminders of new episodes for your favorite shows, and a list of videos based on the trailers you've recently watched.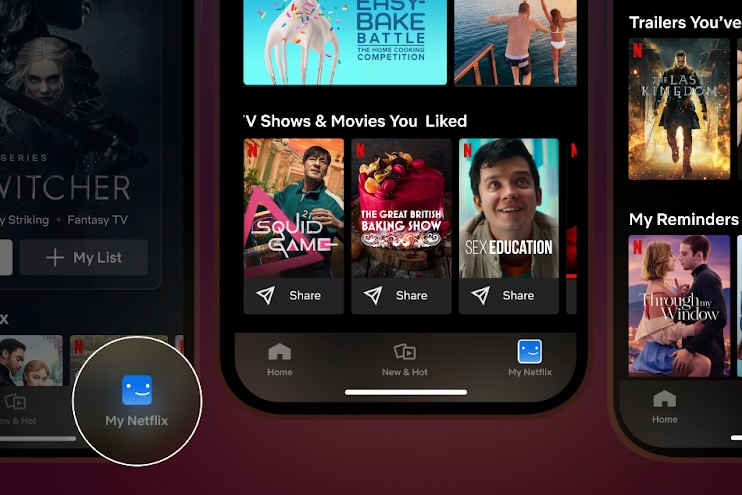 Netflix
Other rows in the My Netflix tab include titles that you're currently watching, as well as videos you've just finished.
Meanwhile, the Home and New & Hot tab will stay where they are, good for exploring Netflix's entire catalog of videos. 
While the Home and New & hot tabs make for decent ways to explore Netflix's treasure trove of videos while you're on your phone or tablet, the My Netflix tab is far more focused on titles with which you've interacted in some way. 
The new "My Netflix" tab is now live on the iOS version of the Netflix app, while the tab will arrive on the Netflix app for Android early next month.
Netflix has been working overtime to keep its desktop, mobile, and smart TV apps as "sticky" as possible, particularly as Netflix continues with its password-sharing crackdown and phasing out its Basic plan, the tier that had been the streamer's most affordable ad-free offering.