A room somewhere in Gurgaon saw a flustered woman, running behind schedule, answer a phone call. Perfect, I mumbled. I had fifteen minutes to go before my friends arrived. Enough for me to gather my wits. The next call announced that they had reached and were waiting outside but this time I was relaxed and ready with a perfect smile in place. The hot, muggy Gurgaon weather was in complete contrast to the cool interiors of the black car with three of the coolest people for company. And so we started our forty five minute drive to our lunch destination. With Pawan Soni at the steering wheel and three ladies – Aradhna Soni, Poonam Malhotra Jayanti and me, the drive felt much shorter. It was around 1PM when we reached Maruchi in Lado Sarai, New Delhi.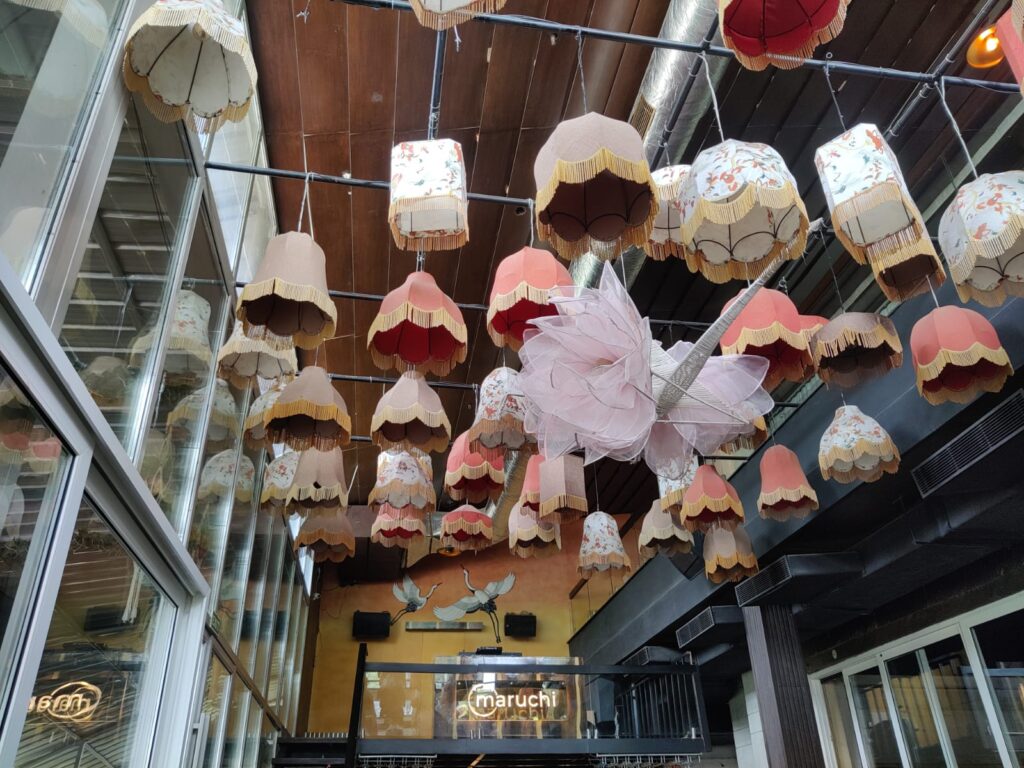 Our collective first impression was that it was a gorgeous property. Huge space with both indoor and outdoor seating, beautifully decorated with plants, flowers, a water feature and even a fish pond with a bridge over it. The setting was perfect for lunch.
We settled down on a corner table overlooking the outdoor seating area and decided on what to order. To our surprise, food was delivered within minutes of placing the order. That promptness of service and the well informed server Abhay Negi, was definitely very pleasant. Our drinks came first – Malachite and Ruby. Both the cocktails were gin based and all of us approved. Let me take you through everything we ate.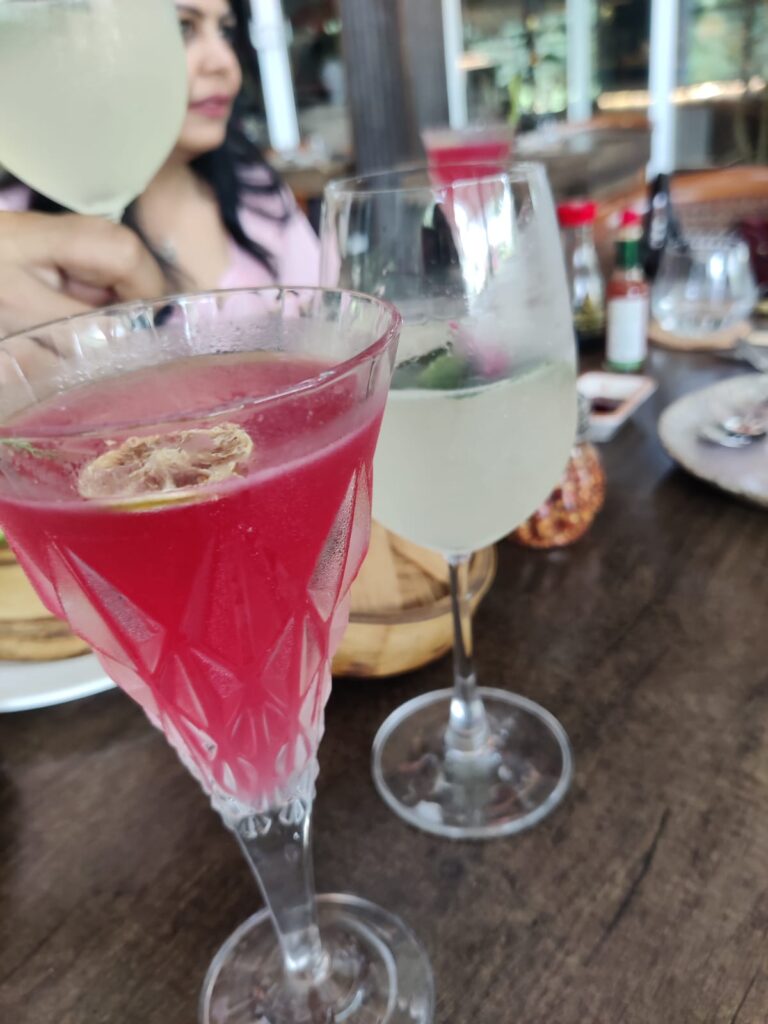 We started with two kinds of sushi – the tempura asparagus and ebi panko. Only one one of us at that table was a vegetarian but we still debated about which of the two sushi we liked more. It was a tough choice. As much as I loved the prawn sushi, I preferred taking a repeat of the crispy asparagus roll. That's how lovely it was.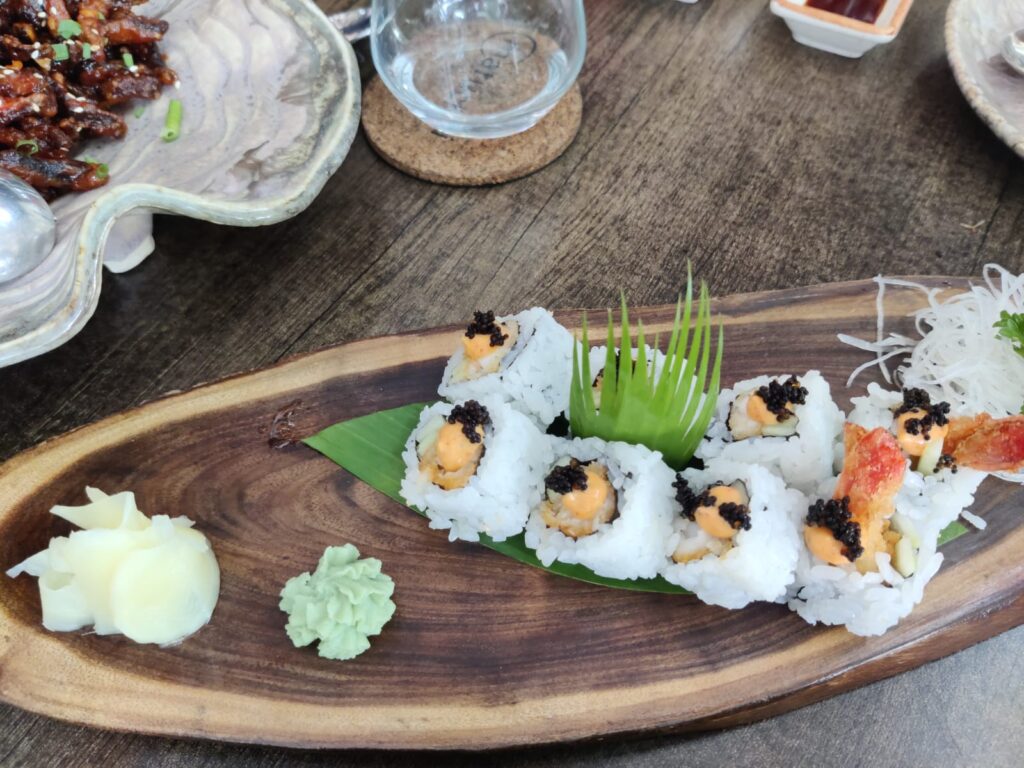 Next up were two kinds of dimsums – edamame from the vegetarian section and prawn and chives from the non-vegetarian. Edamame dumplings were like works of art presented in a steamer and were quite good and flavourful. Prawn and chive dimsums were plump and pretty but lacked the punch of the chives. Good without being exceptional.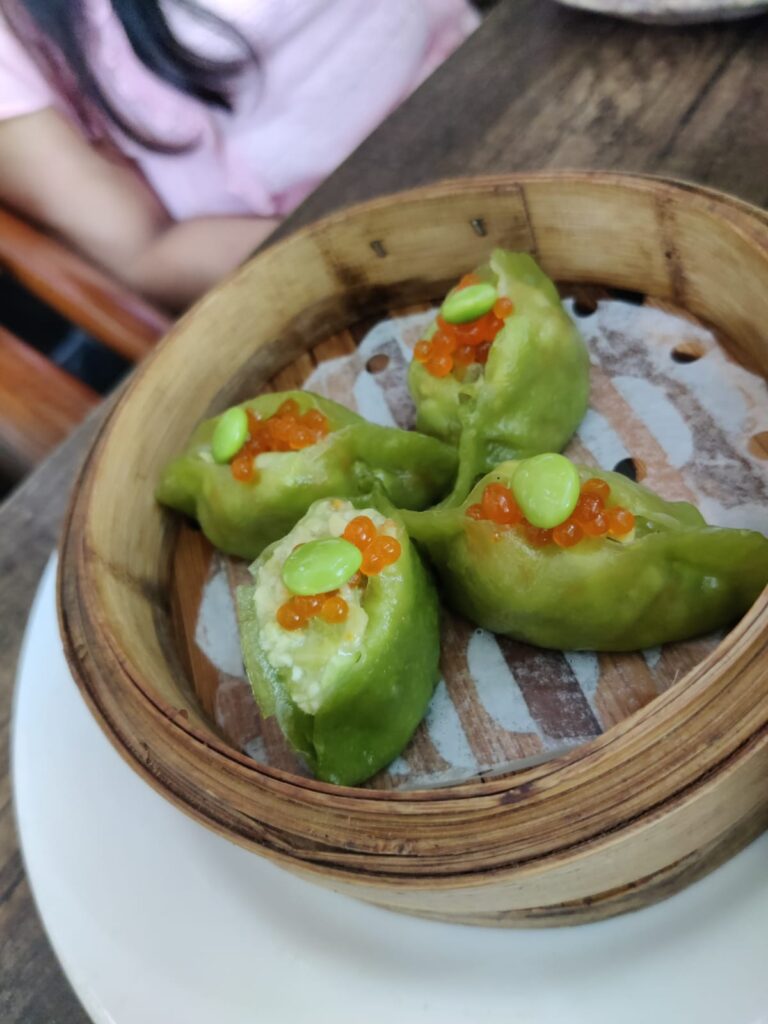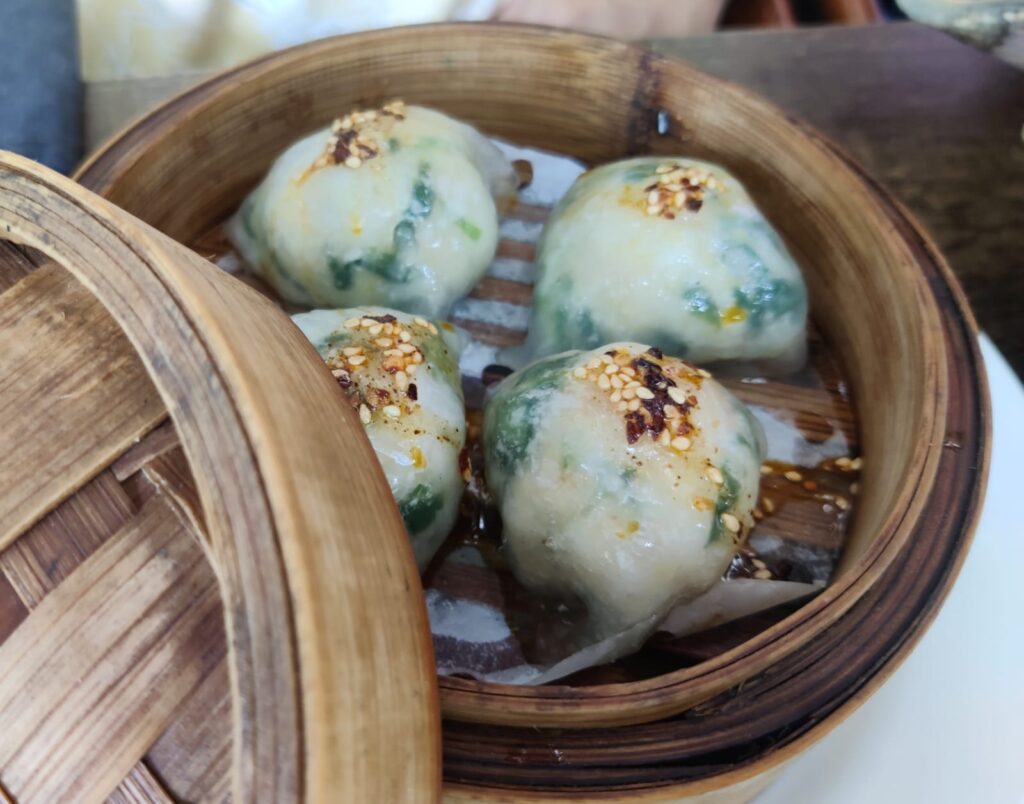 Next we had a delightful pork gyoza which was served with Maruchi's in-house ginger and soya sauce. Soft, succulent, pretty to look at. The vibrant gyoza ticked all the right boxes.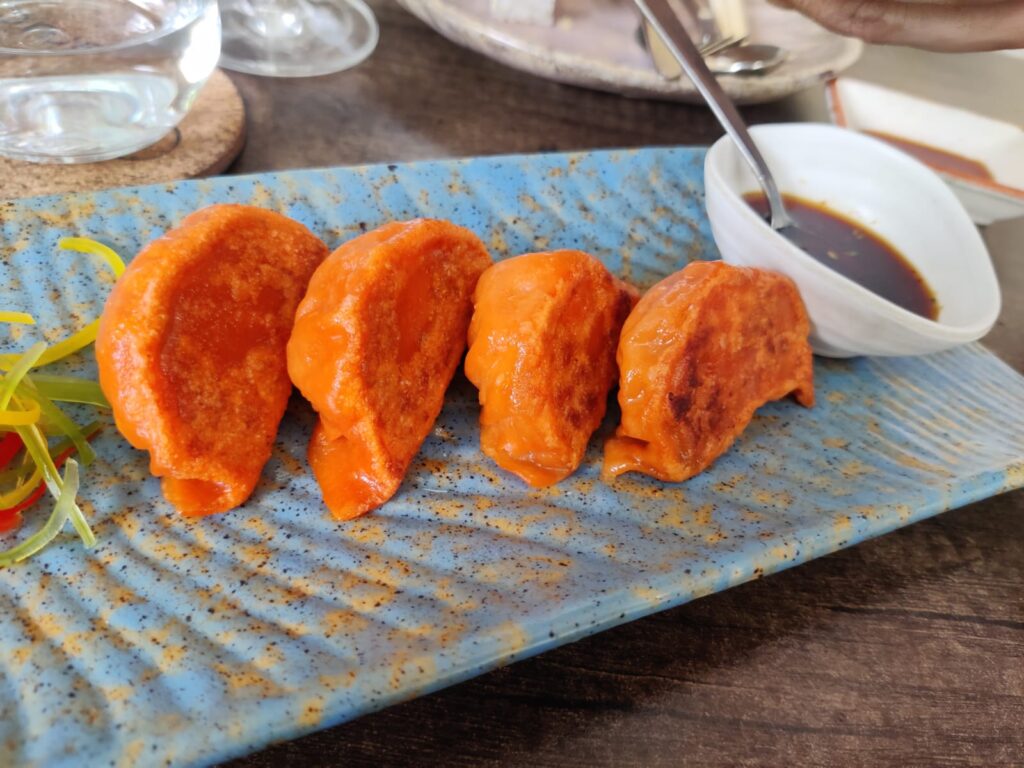 After this, came the first disappointment – wok tossed crispy shitake mushroom. I wouldn't have ever guessed that it was shitake mushroom if I wasn't informed. The taste was very desi because of all the sauces that it was doused in. I am not sure if I would recommend it.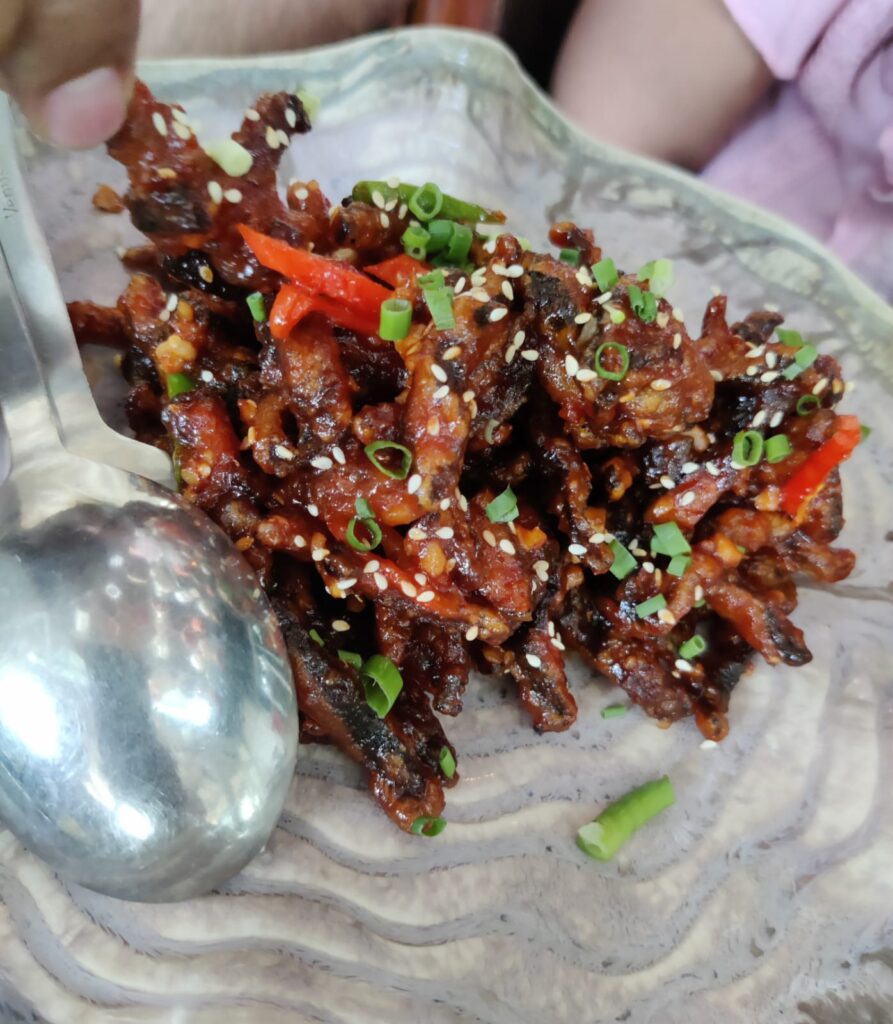 Maruchi also offers pastas and pizzas and we decided to try their sourdough pizza with garlic, sun-dried tomato and pesto. Oh what a delicious surprise! Now, the thing about sharing a meal with someone as knowledgeable as Pawan is that, it isn't just about eating. We ended up discussing the intricacies of a good pizza, the dough and even the flour used. The crisp yet soft and pillowy edges said a lot about the pizza in front of us and it was devoured with ummmm's and aaah's around the table.
By this time, we had finished the first round of cocktails. Aradhna and I said no to a second one but then Poonam shared a life lesson – you have one drink with an enemy and two with a friend. We went into gales of laughter and had to order a second round! A little secret… I just needed a slight nudge. Poonam ordered a house speciality, an espresso martini. It was beautiful and had the precise kick that one looks for in a cocktail.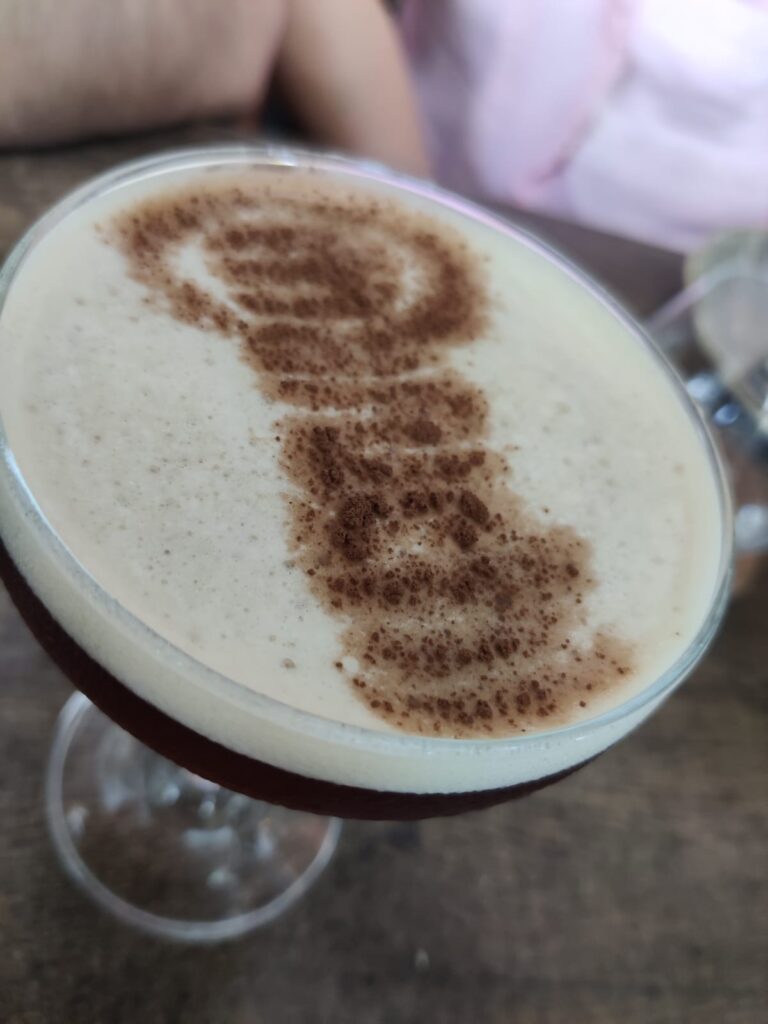 Although we were all quite full but decided to order something for main course as well. We opted for two fish dishes – miso black cod and steamed snapper in banana chilli sauce besides chilli garlic hakka noodles. The portion size for the black cod was a little underwhelming although flavours were spot on. The miso black cod with black bean was buttery soft and absolutely melt in the mouth. The steamed snapper was subtle, very well cooked and presented. While my friends loved the miso black cod, I was slightly more inclined towards the red snapper. I must add that both the dishes were designed to please a fish-lover, both visually and taste-wise. The chilli garlic noodles had the right spice and were a perfect match for the sweetness of the snapper.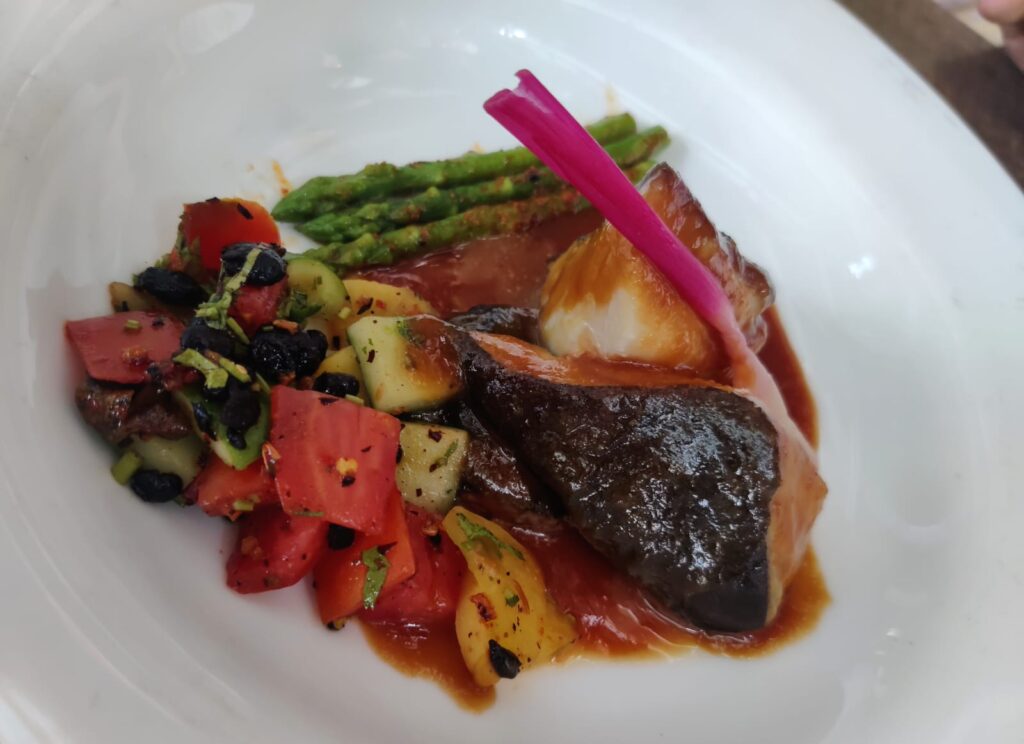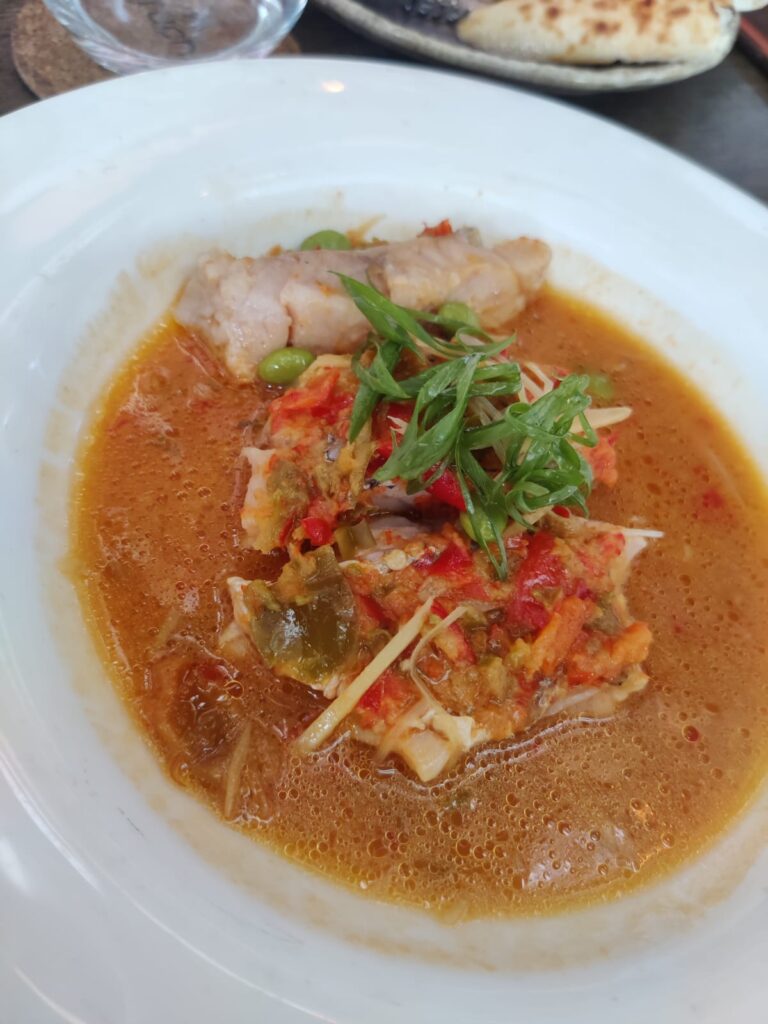 Now, they say well begun is half done and we were looking to finish strong. After that gorgeous, almost perfect lunch, our expectations were very high for the desserts. Pawan ordered their orange custard bao with passion fruit sauce. Poonam who had just returned from Thailand suggested their sticky rice with mango. It wasn't a difficult decision to make. While the beautiful looking orange custard bao was still good, sticky rice in the mango based dessert was too over cooked making it almost impossible to enjoy.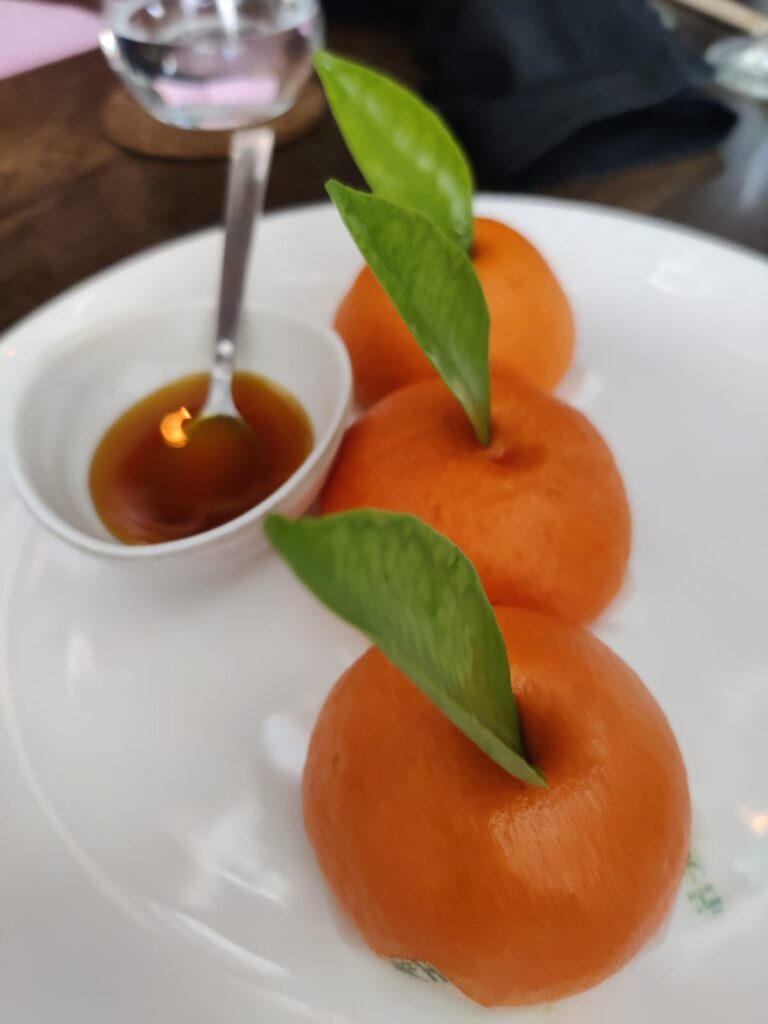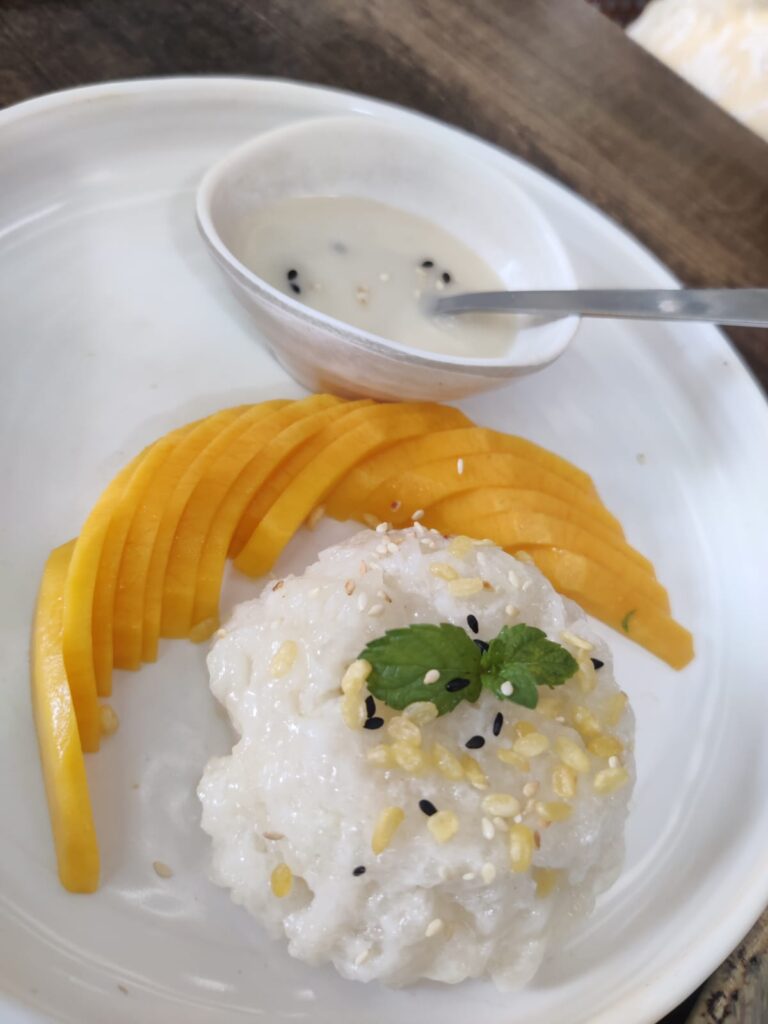 Overall, I would still say that our lunch at Maruchi was a success. With conversation that comfortably jumped from topic to topic, with laughter that was unfettered and food which was largely good, we had very little to complain about.
Maruchi definitely deserves a visit. This beautiful property, like an oasis in the desert, in the heart of south Delhi, has everything to steal your heart away.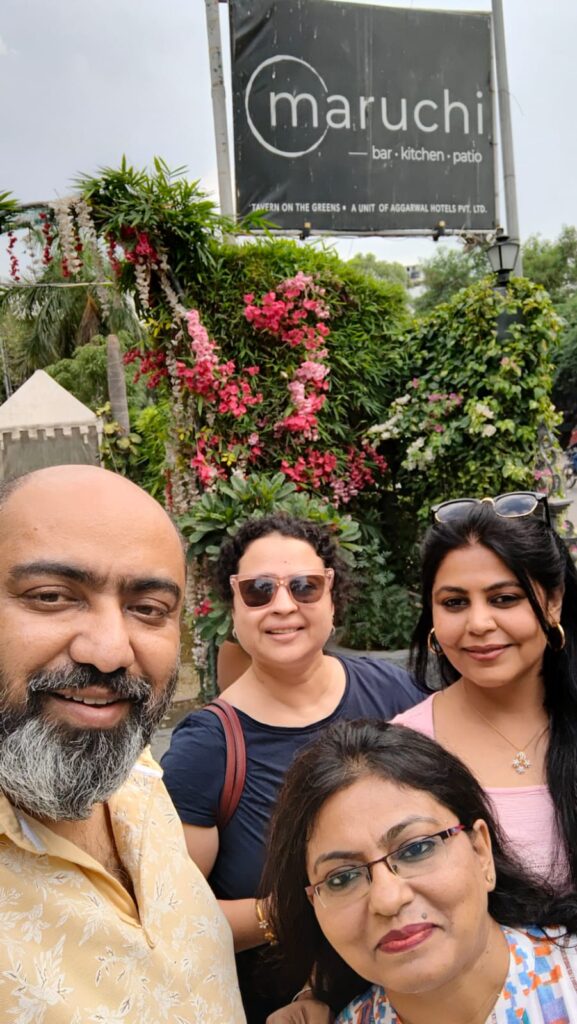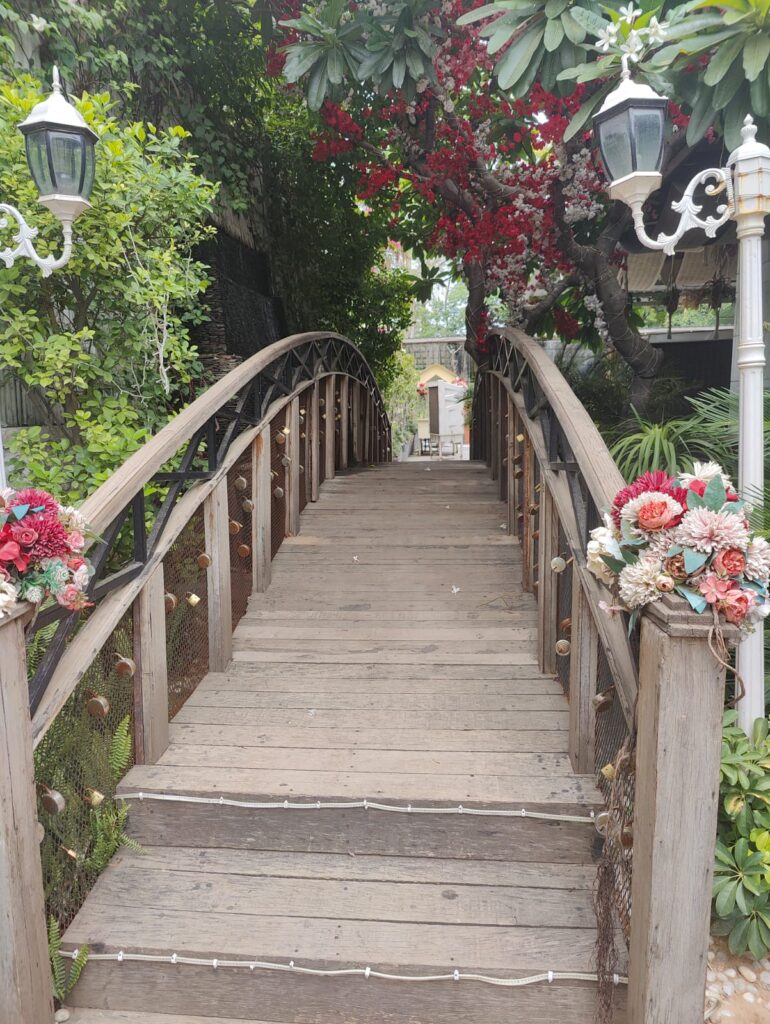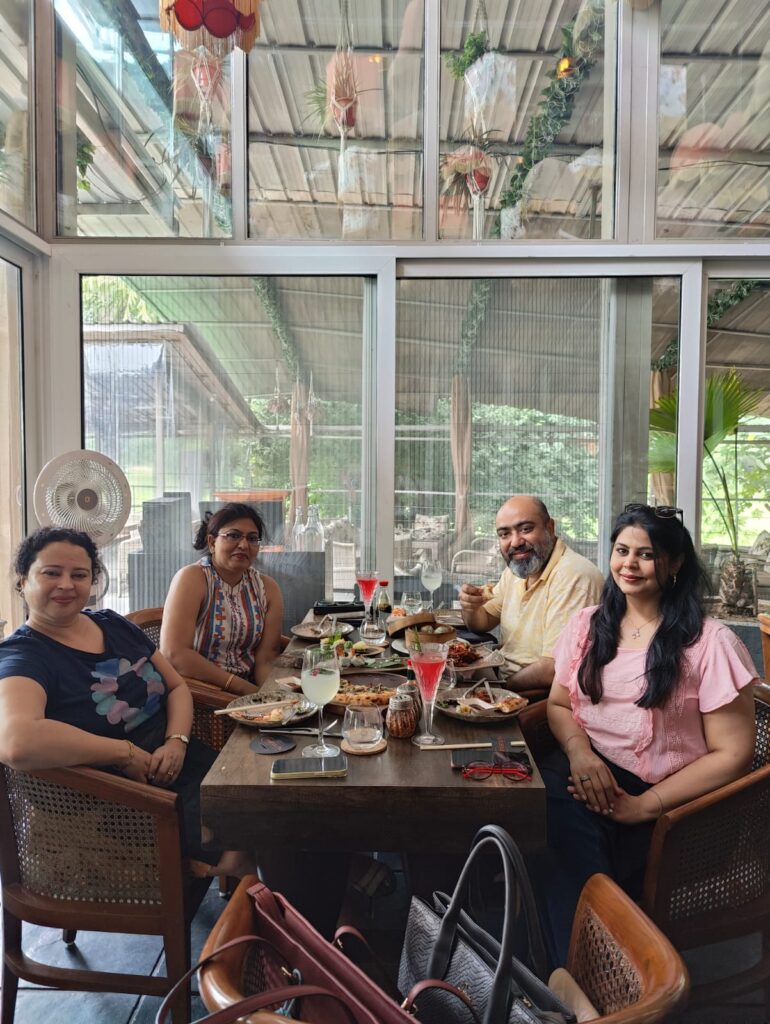 Address:
Maruchi, Sri Aurobindo Marg, Behind Qutub Golf Course, Lado Sarai, New Delhi -110030
Phone number : 099104 25070