Joseph "Joey" Graziadei appears to be one of Charity Lawson's frontrunners on
The Bachelorette's
twentieth season.
Joey is a 27-year-old tennis pro from Koloa, HI.
RELATED LINK: 'THE BACHELOR' FRANCHISE COUPLES NOW: WHO IS STILL TOGETHER?? (PHOTOS)
Charity and Joey have an apparent connection on The Bachelorette, but there is some tough competition with hometowns quickly approaching.
Charity and Joey shared one of the most intimate moments of The Bachelorette season so far when they broke the record for "the longest kiss in Bachelor-Nation history" with a four-minute and 25-second makeout session.
The Bachelorette alum Rachel Recchia, who co-hosted the date with Gabby Windey, pointed out to Charity how Joey wouldn't stop looking at her and maintained great eye contact. Charity thought it was attractive that Joey made her feel like they were the only two people in the world.
Joey later shared letters with Charity that his grandfather had written him, and he called The Bachelorette star "captivating."
Charity said she was "feeling some feels" with Joey about halfway through the process, and she was convinced that Joey was on The Bachelorette for her, and only her.
Joey even told Charity that he could definitely see himself getting down on one knee for her at the end of the show because he believed what they shared was authentic and "so special."
Could Joey end up being the guy of Charity's dreams? Until viewers can watch this pair's romance deepen on The Bachelorette, let's learn some information about this intriguing bachelor.
Below is a list of six facts Reality TV World has compiled about The Bachelorette Season 20 contestant Joey Graziadei.
Joey's life is "truly paradise," according to ABC
After graduating from school, Joey quickly realized the corporate world wasn't for him.
The bachelor therefore moved to Hawaii to pursue his passion of teaching his favorite sport, tennis.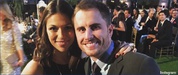 RELATED LINK: 'THE BACHELORETTE' COUPLES NOW
Joey spends his days with his students on the court, and then at night, he goes to the beach and watches the sunset with friends. However, Joey wishes he had a woman to share that with.
RELATED LINK: 'THE BACHELORETTE' COUPLES NOW: WHOM DID 'THE BACHELORETTE' STARS AND THEIR BACHELOR PICKS ULTIMATELY END UP WITH?! (PHOTOS)  
The Bachelorette bachelor is looking for an adventurous partner, just like himself
Joey is hoping to find a woman who is outgoing, friendly and loyal.
He is always up for an adventure, and so his future wife must be pretty spontaneous and up to the challenge — certainly not a homebody.
The bachelor, who has a giant palm tree tattoo on his forearm as well as other ink on his body, also enjoys golfing and spending time with family and friends.
Family apparently means the world to Joey
When Joey was in kindergarten, his dad bravely came out as gay.
"I think [family] defined me. I think it's a big part of who I am… I grew up in a household where my parents were divorced. I think a lot of times, that can be viewed as being in a broken home, but I felt love from both of them," Joey shared on The Bachelorette.
He continued, "I think it's also important to share, like, why they ended up breaking up. So my parents broke up actually because my dad came out."
But Joey shared how his parents maintained a strong connection after their split and they still have love for each other to this day.
"They were such great parents to us, and all that was based on was love," Joey noted.
"It taught me how important love is, and my dad is now someone that I talk to about everything. He's my favorite person to speak to when I'm in a tough time, and it's made me, now, a more loving and accepting person."
RELATED LINK: 'THE BACHELOR' COUPLES NOW: WHO DID 'THE BACHELOR' STARS AND THEIR BACHELORETTE PICKS ACTUALLY END UP MARRYING? (PHOTOS)
Joey earned his Bachelor's Degree from a college in Pennsylvania
Joe attended West Chester University of Pennsylvania from 2013-2017.
He graduated with a major in Communication and Media Studies.
While in school, Joey was a member of Pi Kappa Alpha and PRSSA, the Public Relations Student Society of America.
Joey actually served as the President and Recruitment Chairman of Pi Kappa Alpha, and he was the founding member of the Mu Lambda Chapter.
Joey was naturally a tennis player in college
Joey was a member of West Chester University's Division II Men's Tennis team.
Before attending college, he also played Varsity Tennis in high school at Spring-Ford High School in Royersford, PA, where he served as the "Pep Club President."
The Bachelorette suitor reveals his idea of a perfect date
Joey's perfect date with a woman would be taking on an adventure during the day — such as hiking or some other activity — followed by watching the sunset on a beach, according to BachelorNation.com.
Joey would love to stay by the water post-sunset to watch the stars, and then they'd enjoy sushi for dinner to cap it all off.
RELATED LINK: 'THE BACHELOR' FRANCHISE COUPLES NOW: WHO IS STILL TOGETHER?? (PHOTOS)
Click here to read The Bachelorette spoilers for Charity's season, including which bachelors made it all the way to the end.
Interested in more The Bachelor news? Join our The Bachelor Facebook Group!
About The Author:
Elizabeth Kwiatkowski
Elizabeth Kwiatkowski is Associate Editor of Reality TV World and has been covering the reality TV genre for more than a decade.