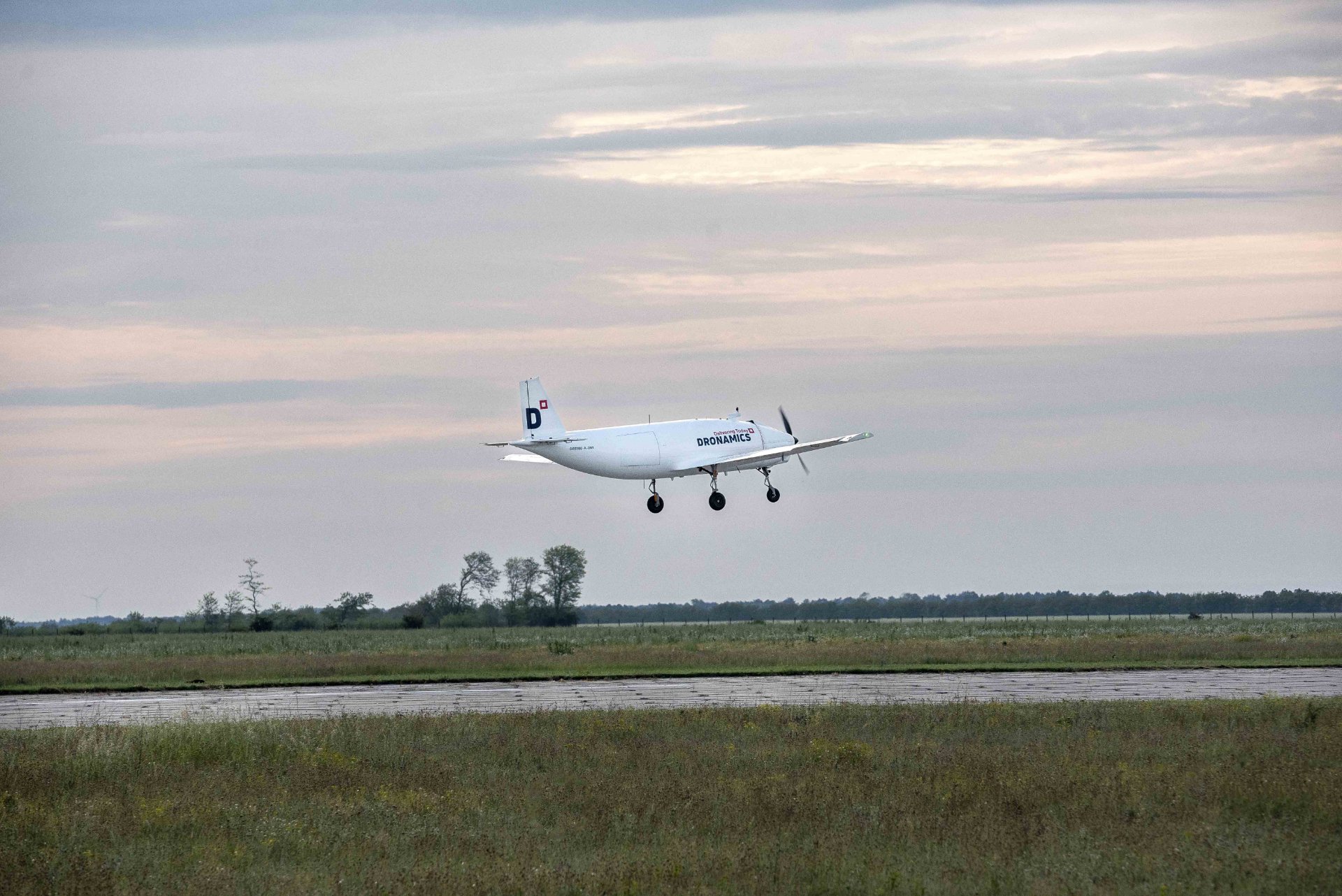 Eight years ago, two brothers started on a journey together. They envisioned a future where everybody had access to same-day delivery. Their idea entails a cargo drone airline that revolutionizes the middle mile. With its cargo drone, Dronamics wants to speed up and enhance the transportation efficiency of goods.
Dronamics is the world's first cargo drone airline. Аs a leading developer and operator of large, long-range drones built specifically for cargo, its flagship Black Swan can carry 350 kg (770 lb) at a distance of up to 2,500 km (1,550 mi), up to 80% faster, 50% cheaper and with up to 60% lower emissions than alternative modes of transport, including airfreight. This enables same-day shipping over very long distances for various industries: from pharma to food, from e-commerce to spare parts.
The two brothers, Svilen and Konstantin Rangelov have reached some impressive milestones already. They have become the first cargo drone company certified for cross-Europe operations. The Black Swan's name signifies something rare or believed to be impossible that changes everything. With the first successful flight of their drone, the brothers have done something rare, and the drone has truly earned its name.
A Cargo Drone for the Middle Mile
For those interested in the technical specs of the Black Swan drone, here are some numbers:
Wingspan: Fixed wing 16m / 52ft 
Fuselage: 8m / 26ft
Height: 4m / 13ft                              
Cargo capacity: 350kg / 770lbs 
Volume: 3.5cbm / 125 cu ft (equivalent to the capacity of a minivan)
Diameter: 1.3m / 4.3ft
Range: 2,500 km / 1,550 miles (equivalent to New York City to Austin, All of Europe, All of the Caribbean, Hong Kong to Osaka, Dubai to New Delhi)
Speed: up to 200 km/h / 125 mph 
Materials used: Carbon fiber predominantly
Listen to the Dronamics Story
If you want to hear more about DRONAMICS, the Black Swan, and the ambitions of this company, listen to this episode of the Does Logistics Matter? Podcast.
In this episode, Martijn talks to Svilen, one of the founders of DRONAMICS, about:
How a fixed-wing drone became the most fuel-efficient aircraft ever
The benefits of a fixed-wing drone for carrying cargo
How these long-range drones can enable same-day delivery even for remote areas, landing or taking off from empty parking lots or grass landing strips