Bachelor in Paradise
couple Raven Gates and Adam Gottschalk have welcomed their second baby into the world.
Raven gave birth to Baby No. 2 on Sunday, July 23, but she and her husband are waiting to reveal whether they have a newborn boy or girl. Given the public doesn't know the baby's sex yet, the name is also currently under wraps.
RELATED LINK: 'THE BACHELOR' FRANCHISE COUPLES NOW: WHO IS STILL TOGETHER?? (PHOTOS)
"Just finished watching my first C-section. Honestly not as bad as I thought it would be," Adam, 32, wrote via Instagram Stories on Sunday, sharing a photo of the new baby's footprints. "Mom & baby are doing VERY good."
Raven and Adam's little bundle of joy arrived on Raven's 32nd birthday.
Later that day, Raven shared how breast feeding was "going really great this time."
"Praise the lord!" she gushed.
And Adam expressed his excitement about being a family of four. He also suggested that Raven was a champion during her "smooth" C-section, which she needed due to an "issue" with her placenta.
"Mom is doing great and baby is doing great," Adam said via Instagram Stories.
"We're still trying to figure out the name. We're down to the wire and are [playing with] two or three different names… When we figure out the name, we'll let y'all know."
Raven previously revealed how her second baby's name was probably going to be "a game-time decision."
The Bachelor in Paradise couple announced they were expecting Baby No. 2 back in January.
"Baby #2 due in July! Any tips on two under 2? Pray for us!… especially Adam," Raven wrote on Instagram, along with crying-laughing emoticons.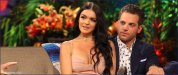 RELATED LINK: 'THE BACHELOR' FRANCHISE COUPLES NOW
On July 13, Raven shared her conflicting emotions about giving her son Gates Zev Gottschalk — who was born in January 2022 after a "traumatic" c-section for Raven — a sibling.
"[Ten] days until we are a family of 4 — Meaning 10 days until Gates is a big brother. (Or sooner!) As time ticks down as Gates's last few days as the only child I have been having a lot of mixed emotions! I thought I would share some negative & positive ones!" Raven began.
"Negative Thoughts: Its unfair to this baby that I won't get the one-on-one time like I did with Gates. It's unfair to Gates that I now won't always be one-on-one with him. I won't be able to carry Gates after this c-section. He's too little to understand. Will he start to resent me?"
RELATED LINK: 'THE BACHELORETTE' COUPLES NOW: WHOM DID 'THE BACHELORETTE' STARS AND THEIR BACHELOR PICKS ULTIMATELY END UP WITH?! (PHOTOS)  
Raven, however, went on to share her positive thoughts as well.
"Positive Thoughts: When I close my eyes I dream about seeing my 2nd baby's face & my heart could burst. I cry at the thought of holding both of my children on my lap. I'm so blessed to be able to have children. Thank you, God. Gates is going to be the best big brother. He is strong, fearless, and will lead the way for so many adventures to come for the both of them."
The Bachelor alum concluded, "With conflicting emotions of mommy guilt and extreme happiness… I hope both of my children know. I love you forever. I'll like you for always. As long as I'm living, my baby you'll be."
Before their newborn's birth, Raven and Adam also enjoyed a babymoon to Italy.
Raven and Adam fell in love on Bachelor in Paradise's fourth season in 2017, and then they got engaged in June 2019.
After getting engaged, Raven and Adam initially scheduled their wedding for May 30, 2020, but they had to postpone the wedding multiple times due to the coronavirus pandemic.
Raven and Adam claimed they had cases of "major baby fever" shortly after tying the knot on April 16, 2021 in Dallas, TX.
"I think we agreed [that] we'd like two or three [kids]," Raven told Us Weekly in June 2021. "But Adam has said, you know, we'll see how I do with two and then go from there."
RELATED LINK: 'THE BACHELOR' COUPLES NOW: WHO DID 'THE BACHELOR' STARS AND THEIR BACHELORETTE PICKS ACTUALLY END UP MARRYING? (PHOTOS)
Raven then publicly announced she was pregnant for the first time in July 2021.
Raven wrote on Instagram at the time, "OVER THE MOON EXCITED TO SHARE THE NEWS! Our Honeymoon baby will be here in January! I've loved you before you were in my womb!"
And Adam simultaneously wrote on his own page, "Beyond excited to announce our little baby into this world. Your Mom has already started to like Daddy's food groups and I think that's a great start. Cheers to fatherhood. Coming soon… January 2022."
The pair then shared in October 2021 how they were expecting a son.
"OH BOY!!! Can't wait to meet our little pumpkin," Raven captioned an image of the couple posing in their self-made pumpkin patch at home.
A few months after Gates was born, Raven shared on the "Click Bait with Bachelor Nation" podcast in May 2022 how she and Adam attend therapy and "don't want divorce" to ever be an option for them.
She then told fans in a December 2022 Instagram Q&A session that she knew Adam was The One when she visited him in Dallas, TX, and they talked about their future together, which made her feel safe and protected.
Prior to appearing on Bachelor in Paradise, Raven competed to win Nick Viall's heart on The Bachelor's 21st season and finished as the runner-up.
For Adam's part, he competed for Rachel Lindsay's heart on The Bachelorette's thirteenth season in Spring 2017 before his BIP stint on Season 4.
RELATED LINK: 'THE BACHELOR' FRANCHISE COUPLES NOW: WHO IS STILL TOGETHER?? (PHOTOS)
Interested in more The Bachelor news? Join our The Bachelor Facebook Group!
About The Author:
Elizabeth Kwiatkowski
Elizabeth Kwiatkowski is Associate Editor of Reality TV World and has been covering the reality TV genre for more than a decade.